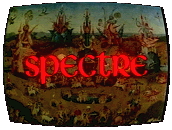 Dr. "Ham" Hamilton is summoned to the home of his friend and colleague, investigator William Sebastian, where he learns that Sebastian's latest criminal investigation extends into truly otherworldly territory. Sebastian's torso is scarred, and he has no detectable heartbeat: the work, he claims, of the devil. A visit from an attractive woman quickly turns horrifying when Sebastian reveals her to be a succubus attempting to thwart his investigation into the unusual behavior of a British business tycoon named Cyon. Sebastian needs Hamilton's help, and is even willing to do him a favor in exchange: Sebastian's mysterious assistant Lilith uses a form of magic to cure the doctor of his alcoholism almost instantly.
The trip overseas is eventful, with Cyon's freewheeling younger brother Mitri piloting Cyon's personal jet. No sooner have Sebastian and Hamilton arrived in London than Sebastian's contact in the Cyon case literally goes up in flames. Sebastian salvages a book from the scene, hoping that the clues will help him crack the Cyon case. The Cyon mansion is staffed by beautiful young women, and even Mitri admits that his brother's "personal magnetism" has increased inexplicably. Sebastian and Hamilton discover a buried cavern beneath the Cyon estate, with evidence of human sacrifices, and indications that a very real demon has broken free. The two men begin planning their endgame against who they believe may be the demon Asmodedus, but they must remain wary: the actions of everyone around them may be ploys to keep them from defeating their supernatural enemy.
screenplay by Gene Roddenberry and Samuel A. Peeples
based on an original story by Gene Roddenberry
directed by Clive Donner
music by John Cameron

Cast: Robert Culp (Sebastian), Gig Young (Dr. Hamilton), John Hurt (Mitri), James Villiers (Cyon), Majel Barrett (Lilith), Ann Bell (Anitra), Lindy Benson (Third Maid), Sally Farmiloe (Fourth Maid), Angela Grant (Butler), Penny Irving (First Maid), Gordon Jackson (Inspector Cabell), Michael Latimer (Co-Pilot), Vicki Michelle (Second Maid), Jenny Runacre (Sydna)

Notes: A familiar leading man at the movies and on TV, Robert Culp (1930-2010) appeared in such genre fare as The Man From U.N.C.L.E., guest shots as three different characters in the 1960s Outer Limits series (including the Harlan Ellison-written episode Demon With A Glass Hand), and a starring role in The Greatest American Hero. John Hurt (1940-2017) starred as Caligula in the 1976 BBC-TV production of I, Claudius before gaining big-screen fame as the star of The Elephant Man (1980) and as Winston Smith in the 1984 adaptation of George Orwell's 1984. He appeared as Ollivander in the Harry Potter movies, provided the voice of the dragon in the 21st century Merlin series, and appeared as a mysterious iteration of the Doctor during the 50th anniversary year of Doctor Who (The Name Of The Doctor, Day Of The Doctor). Spectre was one of the final roles for Gig Young, who died in 1978. Director Clive Donner was busy behind the camera on both sides of the Atlantic, having already directed episodes of the 1960s series Danger Man, starring Patrick McGoohan of The Prisoner fame. This was the last of Gene Roddenberry's 1970s TV pilots before he redirected his attention full-time to reviving Star Trek.
8LogBook entry by Earl Green