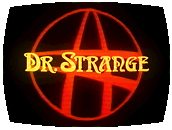 Ancient, immortal forces prepare to resume battle, using modern day Earth as their battleground. The witch Morgan le Fay is challenged by the Nameless One to defeat a wizard who has defended Earth from magical forces for hundreds of years; nearing the end of his life, the wizard will be picking and training a successor soon, and if Morgan strikes at the right time, she can eliminate them both. She takes over the body of a mortal woman and tries to kill Lindmer, the old wizard, but he survives the attempt on his life. The woman briefly controlled by le Fay ends up in the hospital under psychiatric care.
It is there that she encounters Stephen Strange, a doctor with a reputation for being popular with the ladies, but somewhat lacking as a physician. Lindmer tracks the woman to the hospital, and notices that Dr. Strange wears a ring with the same design as a unique window in Lindmer's study. He reveals that he knew Strange's deceased parents, and that Strange has the latent magical ability to take over as the defender of Earth. But first, he must learn to harness those powers, and to resist the temptation of Morgan le Fay.
teleplay by Philip DeGuere
directed by Philip DeGuere
music by Paul Chihara

Cast: Peter Hooten (Dr. Strange), Clyde Kusatsu (Mr. Wong), Jessica Walter (Morgan le Fay), Eddie Benton (Clea Lake), Philip Sterling (Dr. Taylor), John Mills (Lindmer), June Barrett (Sarah), Sarah Rush (Nurse), Diana Webster (Head Nurse), Bob Delegall (Intern), Larry Anderson (Magician), Blake Marion (Dept. Chief), Lady Rowlands (Mrs. Sullivan), Inez Pedroza (Announcer), Michael Clark (Taxi Driver), Frank Catalano (Orderly)

Notes: "Eddie Benton" is a stage name used through 1980 by actress Anne Marie Martin. Ted Cassidy is the uncredited voice of the demon summoned by Morgan to do battle with Dr. Strange. Ironically, though Stan Lee consulted on this movie – obviously intended to be a pilot – more closely than he did any of the other Marvel-derived TV projects of the late 1970s, Dr. Strange went no further than this pilot movie. The character didn't get a filmed revival until 2016. Paul Chihara's music for the early portions of this movie make heavy use of the Blaster Beam, an electronic instrument commonly associated with the soundtrack from Star Trek: The Motion Picture. Another television show beat Dr. Strange to the Beam, however: the instrument had featured heavily in the music for an episode of The Bionic Woman aired in January 1978.
LogBook entry by Earl Green