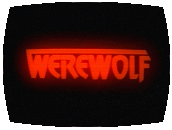 Grad student Eric Cord arrives at his apartment to find his roommate, Ted, in an agitated state – complete with a gun and silver bullets left on a table for Eric. Ted reveals that, while he was working on a fishing boat captained by one Janos Skorzeny, he discovered that Skorzeny was a werewolf and was attacked and bitten by him. Ted now turns into a werewolf, and knows he has been responsible for some recent gruesome attacks on innocent bystanders…and he wants Eric to shoot him with the silver bullets, ending his suffering. A disbelieving Eric doesn't do it, however, and when Ted transforms, Eric himself is bitten. Only then does he grab the gun and shoot Ted, but the result is that Eric is arrested and charged with murder. Before dying, Ted mentioned that the one way for a werewolf to free himself from the curse is to kill the originator of his werewolf bloodline. Eric skips bail and goes looking for Janos Skorzeny, while a bounty hunter named Alamo Joe Rogan is hired to find Eric himself. Skorzeny escapes, and Eric is now a wanted man – one who is, perhaps, even more dangerous than the authorities pursuing him could possibly imagine.
written by Frank Lupo
directed by David Hemmings
music by Sylvester LeVay

Cast: John J. York (Eric Cord), Lance LeGault (Alamo Joe), Chuck Connors (Janos Skorzeny), Raphael Sbarge (Ted Nichols), Michelle Johnson (Kelly Nichols), Ethan Phillips (Eddie Armondo), Robert Krantz (Rudy), Stanley Grover (Rudi Armandi), John Quade (Storage Shed Owner), Gail O'Grady (Volkswagen Victim), Linden Ashby (Volkswagen Victim), Toni Attell (Eddie's Secretary), Andrew Magarian (Mr. Nichols), Lynn Danielson (Funeral Attendee), Harold Ayer (Mr. Manickindam), Geraldine O'Brien (Mrs. Manickindam), Robert Sutton (Motel Guest)

Notes: This was the first genre series to be produced for the brand new Fox network. The series pilot episode is written by Werewolf creator Frank Lupo (also creator of The A-Team, Hunter, and Riptide); the werewolf characters were designed by Rick Baker. Though Werewolf was heavily promoted as featuring Chuck Connors as its main villain, Connors demanded more money for future appearances, and as a result only appeared in four further episodes before being written out. His character, Janos Skorzeny, was named after the vampire in the 1972 TV movie The Night Stalker, which was the launching pad for a sequel, The Night Stalker (1973) and the series Kolchak: The Night Stalker.