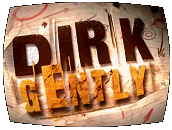 Dirk Gently, a "holistic detective" who deduces the solutions to his cases through his unwavering belief in the interconnectedness of all things, has just accepted a case to find a missing cat, when he notices his old college friend, Richard Macduff, seeming to rob a house. But it turns out that the house is Macduff's own, and he has a reason to make it look as though the house has been burgled, though it's not a terribly good reason: he suspects his girlfriend is involved with technology millionaire Gordon Way. With Macduff in tow, Dirk decides to poke around in a seemingly abandoned nearby warehouse, only to discover that it's rigged to explode. The two barely escape before the warehouse blows up, and the news media report that Way perished in that blast…even though neither Dirk nor Macduff saw him there. Dirk begins investigating the strange disappearance of Gordon Way, and finds the interconnectedness he advocates so often – Way's disappearance is directly related to Macduff, to Dirk's own past, and even to the missing cat.
written by Howard Overman
based on "Dirk Gently's Holistic Detective Agency" by Douglas Adams
directed by Damon Thomas
music by Daniel Pemberton

Cast: Stephen Mangan (Dirk Gently), Helen Baxendale (Susan Harrison), Darren Boyd (Richard Macduff), Doreen Mantle (Ruth Jordan), Jason Watkins (DI Gilks), Lisa Jackson (Janice Pearce), Anthony Howell (Gordon Way), Miles Richardson (Doctor Gerstenberger), Billy Boyle (Harry Jordan), Elliot Sutherland (Tom), Gary Pillai (Doctor), Alisha Bailey (Reporter), Joe Hall (Newsagent), Leona Walker (Receptionist), Alex Parry (Barman)

Notes: The second of the BBC's attempts to dramatize Douglas Adams' lesser known books, this is the first attempt on television, and adapts the first of those novels, Dirk Gently's Holistic Detective Agency, for an hour-long TV format. The results were popular enough to result in a short season of three further episodes the following year.
LogBook entry by Earl Green