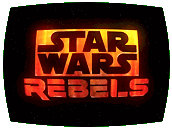 Thanks to his Force connection to the Loth-Wolves, Ezra makes the others aware that the abandoned Jedi Temple on Lothal is now occupied by Imperial forces who are close to cracking its secrets. Hera approves a mission to keep that from happening, but is surprised when the Loth-Wolves themselves provide passage to the temple, which is far north of the rebel base camp. Sabine and Ezra disguise themselves as Biker Scouts and enter the Imperial operation, finding that it is being led by an unknown man who reports directly to the Emperor himself. The Loth-Wolves are defending their own secret of travel across Lothal by means of the Force, and need Ezra to learn and protect that secret as well…even if it means leaving Sabine in the hands of the Empire.
written by Dave Filoni
directed by Dave Filoni & Bosco Ng
music by Kevin Kiner
additional music by David Russell, Sean Kiner, and Dean Kiner
based on original themes and music by John Williams

Cast: Taylor Gray (Ezra Bridger), Vanessa Marshall (Hera Syndulla / Imperial Scout #1), Tiya Sircar (Sabine Wren), Steve Blum (Zeb Orrelios / Stormtrooper #2 / Thrawn Trooper #2), Ashley Eckstein (Ahsoka Tano), Adrienne Wilkinson (Daughter), Ian McDiarmid (Emperor Palpatine), Lars Mikkelsen (Grand Admiral Thrawn), Matthew Wood (Imperial Comm / Stormtrooper #1 / Thrawn Trooper #1), Dave Filoni (Imperial Scout #2 / Mining Guild Worker), Jason Isaacs (The Inquisitor), Freddie Prinze Jr. (Kanan Jarrus), Malcolm McDowell (Minister Hydan)

Notes: Strong with the Dark Side, this episode of Rebels is a wretched hive of scum and villainy from numerous other SF shows and movies, whether it's Jason Isaacs (Lucius Malfoy from the Harry Potter movies, who had just finished his stint as the suspicious Captain Lorca on Star Trek: Discovery mere weeks before this episode's premiere ), Malcolm McDowell (of A Clockwork Orange fame, and still infamous as "the man who killed Captain Kirk" in 1994's Star Trek: Generations), or Emperor Palpatine himself, Ian McDiarmid, making his first Rebels appearance. Ashley Eckstein appears as Ahsoka for the first time since the season 2 finale, with Adrienne Wilkinson (Eve from Xena: Warrior Princess) appearing as the voice of one of the figures in the painting from the walls of the ancient Jedi temple.
LogBook entry by Earl Green