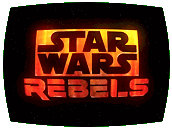 Kanan, Ezra, and Ahsoka set out with Chopper to find out why the vision of Yoda directed Ezra to go to Malacore. The answer is obvious when they arrive: an ancient Sith temple lies waiting. And that's not all that lies in wait: the Inquisitors are already there, though not all of them are expecting the Rebels. A third Inquisitor is hunting "the shadow". A floor collapses in the temple, separating Ezra from the others, and he befriends an old man who simply calls himself the Old Master. The Old Master has been trapped alone in the Sith temple for years, but since all Sith technology and architecture requires two people – a master and an apprentice – to operate it, he enlists Ezra's help to retrieve a Sith holocron. The Old Master is the shadow.
But he was once known as Darth Maul.
written by Dave Filoni
directed by Simon Kinberg & Steven Melching
music by Kevin Kiner
based on original themes and music by John Williams

Cast: Taylor Gray (Ezra Bridger), Freddie Prinze Jr. (Kanan Jarrus), Ashley Eckstein (Ahsoka Tano), Robbie Daymond (Eighth Brother), Sam Witwer (Maul), Dee Bradley Baker (Rex), Sarah Michelle Gellar (Seventh Sister)

Notes: Introduced – and then dispatched (or so we thought) – in live action in Star Wars Episode I: The Phantom Menace, Maul returned to hound Obi-Wan and the Jedi in the fourth and fifth season of Clone Wars.
LogBook entry by Earl Green