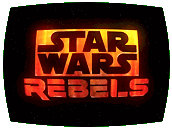 The Ghost lies in wait, powered down until spotted by an Imperial probe, which they then pursue and destroy just as a small force of Rebel ships arrive. Only now do Hera, Ezra and Zeb learn their orders: to transport Senator Mon Mothma, who now has a target on her back after speaking out in no uncertain terms against the Emperor's tyranny, to a remote outer rim planet called Dantooine. There, Mon Mothma intends to transmit a message to the other disparate Rebel cells, inviting them to join an alliance of Rebel groups. The Emperor has naturally dispatched Grand Admiral Thrawn to make sure that Mon Mothma never gets there, and Thrawn has brought a new secret weapon with him.
written by Matt Michnovetz
directed by Bosco Ng
music by Kevin Kiner
additional music by David Russell, Sean Kiner, and Dean Kiner
based on original themes and music by John Williams

Cast: Taylor Gray (Ezra Bridger), Vanessa Marshall (Hera Syndulla), Steve Blum (Zeb Orrelios / Alton Kastle / Probe Droid), Dee Bradley Baker (Admiral Konstantine / Gold Four), Josh Brener (Erskin Samaj), Bonnie Wold (Gold Five), Yuri Lowenthal (Gold Leader), Phil LaMarr (Gold Three), Mary Elizabeth McGlynn (Gold Two / Governor Pryce), Lars Mikkelson (Grand Admiral Thrawn), Matthew Wood (Imperial Officer), Genevieve O'Reilly (Mon Mothma), Mario Vernazza (Vult Skerris)

Notes: This episode brings Hera's Rebel cell into contact with characters from the original trilogy, including Jon "Gold Leader" Vander (Star Wars, Rogue One) and Senator Mon Mothma (Return Of The Jedi, Rogue One). Furthermore, Genevieve O'Reilly, who played Mon Mothma in Rogue One and in scenes cut from Star Wars Episode III: Revenge Of The Sith, provides the character's voice here. The three-winged TIE Defender prototype was first revealed in An Inside Man. This episode ends with the formation of the Rebel fleet proper as seen in later live-action films in the Star Wars saga.
LogBook entry by Earl Green