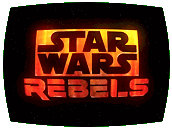 Obsessed with his suspicion that the Empire is trying to prepare a superweapon capable of wiping out all resistance, Saw Gerrera enlists the help of Ezra, Sabine and Chopper to infiltrate what he believes to be an Imperial freighter, though it looks like a civilian cargo ship. Once inside, the rebels discover a cargo container full of prisoners, all of whom are experts in building reactors, but that's not the main cargo. An enormous Kyber crystal is being kept barely stable in the cargo hold, guarded by a squadron of Death Troopers. Saw decides this is proof he was right all along, and risks everyone's lives to deny the Empire its prize.
written by Matt Michnovetz
directed by Bosco Ng
music by Kevin Kiner
additional music by David Russell, Sean Kiner, and Dean Kiner
based on original themes and music by John Williams

Cast: Taylor Gray (Ezra Bridger), Vanessa Marshall (Hera Syndulla), Freddie Prinze Jr. (Kanan Jarrus / Death Trooper #2 / Stormtrooper #2), Tiya Sircar (Sabine Wren), Steve Blum (Zeb / Stormtrooper #1 / Stormtrooper #5), Andre Sogliuzzo (Captain Slavin / Stormtrooper #3 / Stormtrooper #6), Jennifer Hale (Commander DT-F16 / Prisoner #2), Stephen Stanton (Death Trooper #1 / Imperial Officer #1 / Stormtrooper #4), David Acord (Edrio Two Tubes), David Shaughnessy (Imperial Captain / Imperial Officer #2 / Mich Matt), Dave Filoni (Prisoner #1), Forest Whitaker (Saw Gerrera)

Notes: More Rogue One elements make their first animated appearances here, including Death Troopers and a mention (but not a sighting) of Director Orson Krennic, the Imperial officer in charge of construction the Death Star, whose superlaser is indeed powered by enormous Kyber crystals in Star Wars lore, and the Kyber crystal is being transported to the Empire from Jedha (a planet which will become the Death Star's first target in Rogue One). The lateral shock wave of the crystal's explosin would appear to be a visual reference to a much-derided effect first seen upon the Death Star's demise in the 1997 "Special Edition" theatrical re-release of Star Wars. Kyber crystals, now frequently mentioned in Star Wars media, originated as a rejected plot element of the first film, only to resurface in the first non-film Star Wars novel, Splinter Of The Mind's Eye (1978), as the "Kaiburr Crystal".
LogBook entry by Earl Green