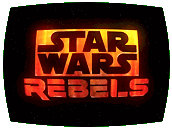 The Ghost beats a hasty retreat from Lothal, with the Inquisitor leading Imperial fighters to it. A tracking device is fired toward the Ghost, but instead attaches to its shuttlecraft, the Phantom. Realizing that both the tracker and their sensitivity to the Force are leading the Inquisitor to them, Kanan and Ezra depart in the Phantom to set a trap for their pursuers, a trap that will require Ezra to learn new skills with the Force. But when he finds himself trying to protect the fallen Kanan from the Inquisitor, Ezra takes a step toward the dark side.
written by Greg Weisman
directed by Steward Lee
music by Kevin Kiner
based on original themes and music by John Williams

Cast: Taylor Gray (Ezra Bridger), Freddie Prinze Jr. (Kanan Jarrus), Vanessa Marshall (Hera), Tiya Sircar (Sabine), Steven Blum (Zeb / Alton Kastle / Stormtrooper Commander), Dee Bradley Baker (Admiral Kassius Konstantine), Matthew Wood (Stormtrooper Squad Leader), Jason Isaacs (The Inquisitor), Peter MacNicol (Tseebo)

Notes: The abandoned Clone-War-era asteroid base, and its current population of carnivores, was first visited by Hera and Sabine in Out Of Darkness. Fulcrum is again heard but not seen, and Hera again refuses to introduce other members of the crew to Fulcrum. The fate of Ezra's parents is revealed in the second season episode Legacy.
LogBook entry by Earl Green