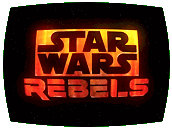 With Governor Pryce captured by the Rebels, Ezra's plan to rid Lothal of any Imperial presence permanently is now in motion: the Rebels will, using the captured Imperial transports, infiltrate the Empire's base on Lothal, where Pryce will – at the point of a blaster – recall all Imperial forces to the base for an evacuation. When Grand Admiral Thrawn returns to Lothal ahead of schedule and begins bombarding the planet's civilian population from orbit in response, Ezra relents and hands himself over to Thrawn, over the protests of Hera and the others. Thrawn has orders to deliver Ezra to the Emperor, but even before then, Palpatine communicates with Ezra via hologram, offering to return his parents to him, alive and well, in exchange for revealing the secret of the gateway into time and space that was accessible from the ruins of Lothal's Jedi temple. Ezra refuses, aware that his friends have already set his backup plan into motion, buying time for some old allies to attack the Imperial fleet hovering over Lothal. But will the price of thwarting the Emperor's plans be the loss of another of the last few remaining Jedi?
written by Dave Filoni, Henry Gilroy, Kiri Hart, Simon Kinberg & Steven Melching
directed by Dave Filoni, Bosco Ng and Sergio Paez
music by Kevin Kiner
additional music by David Russell, Sean Kiner, and Dean Kiner
based on original themes and music by John Williams

Cast: Taylor Gray (Ezra Bridger), Vanessa Marshall (Hera Syndulla), Freddie Prinze Jr. (Kanan Jarrus), Tiya Sircar (Sabine Wren), Steve Blum (Zeb Orrelios / Imperial Officer / Imperial Tech / Stormtrooper #1), Dave Filoni (Chopper / Imperial Pilot / Stormtrooper #2), Keith Szarabajka (Cikatro Vizago / Imperial Officer), Dee Bradley Baker (Captain Rex / Clone Troopers / Ephraim Bridger / Melch), Ian McDiarmid (Emperor Palpatine), Mary Elizabeth McGlynn (Governor Pryce), Lars Mikkelsen (Grand Admiral Thrawn), Jim Cummings (Hondo Ohnaka / Pellaeon / Imperial Commander / Stormtrooper #3), Matthew Wood (Imperial Technician #1), David Acord (Imperial Technician #2), David Oyelowo (Kallus), Gina Torres (Ketsu Onyo), Zachary Gordon (Mart Mattin), Kath Soucie (Mira Bridger), Warwick Davis (Rukh), Clancy Brown (Ryder Azadi)

Notes: The episode-ending coda reveals that Hera and Captain Rex fought in the battle of Endor, and Rogue One had already revealed the Ghost's presence at both Yavin IV and the battle of Scarif. Some time after the liberation of Lothal, Hera has a son, Jacen Syndulla, and Sabine's narration in the coda indicates that Jacen's father was Kanan. Ezra's fate is left unresolved, with the tantalizing hint that Sabine and Ahsoka Tano begin a quest to find him after the fall of the Empire, perhaps to be chronicled elsewhere.
LogBook entry by Earl Green