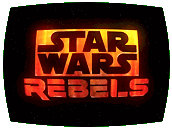 With their raids on Imperial cargo flights not going well and supplies running low, the Ghost crew is becoming demoralized. Ezra is doubly frustrated because the repeated attempts to intercept Imperial cargo have left no time for the Jedi training that Kanan promised him. Kanan opts for a straightforward bit of piracy, stealing an Imperial weapons shipment under cover, but when Zeb recognizes the stolen guns as the same kind of banned weapons that killed most of his people, the fight becomes personal. In the meantime, Chopper runs afoul of a pair of droids tagging along with an Imperial dignitary, butting metal heads with the newer-model blue astromech droid and his protocol droid counterpart. But C-3PO and R2-D2 are on a secret mission of their own, one which lands them in trouble again.
written by Greg Weisman
directed by Steward Lee
music by Kevin Kiner
based on original themes and music by John Williams

Cast: Taylor Gray (Ezra Bridger), Freddie Prinze Jr. (Kanan Jarrus), Vanessa Marshall (Hera), Tiya Sircar (Sabine), Steven Blum (Zeb / Amda Wabo / Stormtrooper Commander), David Oyelowo (Agent Kallus), Phil LaMarr (Bail Organa), Anthony Daniels (C-3PO), Keith Szarabajka (Vizago / Dispatcher / Imperial Officer), Kath Soucie (Minister Maketh Tua), Paul Reubens (RX-24)

Notes: Anthony Daniels continues his hat trick of having played C-3PO in nearly every audiovisual offshoot of the Star Wars universe, including the original films. Phil Lamarr reprises the role of Bail Organa, who he voiced in many Clone Wars episodes (as well as other characters such as Jedi Knight Kit Fisto). Paul Reubens originated the voice of RX-24 in Disneyland's long-running Star Tours ride in 1987, which was also the source of the passenger vehicle piloted by RX-24 in this episode, marking the first on-screen validation of Star Tours.
LogBook entry by Earl Green