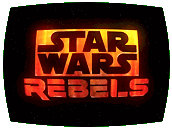 With Gall Trayvis revealed as an Imperial collaborator, Kanan decides to borrow a strategy from the playbook of Ezra's parents, and launch a Rebel pirate broadcast to inform everyone on Lothal and in nearby systems of the truth of Imperial rule. But rather than constructing a crude transmitter in a building, Kanan wants to hijack the Empire's own communications array – the biggest transmitter on the planet. His move, however, is anticipated by the latest Imperial arrival to Lothal: Grand Moff Tarkin, governor of the outer rim worlds. With a ruthless attitude toward those who have repeatedly failed to capture Kanan and his crew, and cold, calculated strategic thinking, Tarkin allows Kanan to take the transmitter – and then destroys it himself, capturing Kanan in the process.
written by Greg Weisman and Simon Kinberg
directed by Steward Lee
music by Kevin Kiner
based on original themes and music by John Williams

Cast: Taylor Gray (Ezra Bridger), Freddie Prinze Jr. (Kanan Jarrus), Vanessa Marshall (Hera), Tiya Sircar (Sabine), Steven Blum (Zeb / Alton Kastle / Stormtrooper #1), David Oyelowo (Agent Kallus), David Shaughnessy (Commandant Aresko / Taskmaster Grint), Brent Spiner (Gall Trayvis), Stephen Stanton (Grand Moff Tarkin), Kath Soucie (Minister Maketh Tua), Jason Isaacs (The Inquisitor)

Notes: This episode is effectively the beginning of a three-part season finale, and introduces Tarkin to the Rebels storyline. It also sees the exit of incompetent Imperial officers Aresko and Grint, beheaded (offscreen) by the Inquisitor in one of the darkest plot developments of the series to date.
LogBook entry by Earl Green