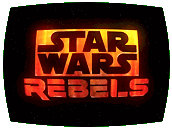 After going through the Jedi portal, EZra finds himself at a crossroads connecting all of space and time through other similar portals. He reaches through one portal and pulls out Ahsoka Tano, rescuing her from her final duel with Darth Vader, but someone else is rapidly finding out how to reach through the other portals as well: the Emperor. Ahsoka warns Ezra that she can't return to his present with him, but having survived the fight with Vader, she will find him again. With the Emperor's ability to probe and manipulate the portals growing by the second, Ezra must now reunite with his friends and find a way to close all of the portals…or surrender to the Sith Lord the power to change history.
written by Dave Filoni
directed by Dave Filoni & Steward Lee
music by Kevin Kiner
additional music by David Russell, Sean Kiner, and Dean Kiner
based on original themes and music by John Williams

Cast: Taylor Gray (Ezra Bridger), Vanessa Marshall (Hera Syndulla), Tiya Sircar (Sabine Wren), Steve Blum (Zeb Orrelios / Stormtrooper), Ashley Eckstein (Ahsoka Tano), Ian McDiarmid (Emperor Palpatine), Malcolm McDowell (Minister Hydan)

Notes: While it's a mainstay of other science fiction, this is one of very few instances of a Star Wars storyline hinting at the ability to time travel and change history.
LogBook entry by Earl Green