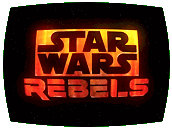 Governor Pryce receives a call from deposed Governor Ryder Azadi, apparently ready to sell out the rebel cell on Lothal. Hoping that the capture of Ezra Bridger and the others will provide enough of a victory to avoid her impending execution by Thrawn, Pryce commits a significant Imperial force to taking the rebel base, only to be routed by the Ghost, returning to Lothal with Hera, Kallus, Ketsu, Hondo, and a complement of battle-hardened ex-clone troopers. But perhaps even more critical to the rebels' victory is Ezra's growing connection with the Force and the Loth-wolves. At the end of the day, the rebels have not only survived, but have taken the Governor of Lothal as their prisoner.
written by Henry Gilroy & Steven Melching
directed by Dave Filoni & Saul Ruiz
music by Kevin Kiner
additional music by David Russell, Sean Kiner, and Dean Kiner
based on original themes and music by John Williams

Cast: Taylor Gray (Ezra Bridger), Vanessa Marshall (Hera Syndulla), Tiya Sircar (Sabine Wren), Steve Blum (Zeb Orrelios / Imperial Captain / Rebel Officer), Keith Szarabajka (Cikatro Vizago / Imperial Officer #1), Dee Bradley Baker (Rex / Clone Troopers / Melch), Mary Elizabeth McGlynn (Governor Pryce), Jim Cummings (Hondo Ohnaka / Imperial Officer #2), David Oyelowo (Kallus), Gina Torres (Ketsu Onyo), Warwick Davis (Rukh), Clancy Brown (Ryder Azadi)

Notes: Hera's maneuver – flipping the Ghost over to knock an Imperial transport out of the sky – anticipates a nearly-identical maneuver that a young Han Solo would use to eliminate a TIE Fighter chasing the Millennium Falcon (back when it was Lando's ship) during the escape from Kessel in Solo (2018). Not so much a self-contained story as a half-hour all-star fight scene, A Fool's Hope sets the stage for the series finale.
LogBook entry by Earl Green