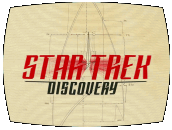 Stardate not given: Burnham and Lorca brace themselves for a reunion of sorts with Emperor Philippa Georgiou, ruler of the Terran Empire. For Burnham, it's like seeing a ghost of the captain she admired and then betrayed, but for Lorca, it's a trip back to the agonizer booth. Stamets, still unconscious in the spore chamber of Discovery's engine room, meets his counterpart from the alternate universe, but is unimpressed with the other Stamets' ends-justify-the-means approach…and indeed leaves his other self behind when he thinks he spots Dr. Culber. Burnham, under threat of death, reveals the truth to Georgiou…who, in turn, reveals that Burnham's recent twists of fate have been deliberately engineered by someone native to this treacherous timeline.
written by Jordon Nardino
directed by Hanelle M. Culpepper
music by Jeff Russo

Cast: Sonequa Martin-Green (Commander Michael Burnham), Doug Jones (Lt. Commander Saru), Shazad Latif (Lt. Ash Tyler / Voq), Anthony Rapp (Lt. Paul Stamets), Mary Wiseman (Cadet Sylvia Tilly), Jason Isaacs (Captain Gabriel Lorca), Mary Chieffo (L'Rell), Wilson Cruz (Dr. Hugh Culber), Michelle Yeoh (Emperor Georgiou), Sam Asante (Senior Guard), Jeremy Crittenden (Lord Eling), Raven Dauda (Dr. Pollard), Billy Maclellan (Barlow), Dwain Murphy (Captain Maddox), Tasia Valenzia (Shenzhou Computer), Marie Ward (Junior Guard)

Notes: The "interphase" referred to here, along with the resulting homicidal madness that consumed the original 23rd century crew of the Defiant (TOS: The Tholian Web), was a product of Tholian experiments conducted in the mirror universe in the 22nd century, which eventually dragged the 23rd century Defiant back in time and across the divide between timelines (as detailed in Enterprise: In A Mirror Darkly).
LogBook entry by Earl Green