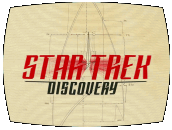 Stardate 1048.66: A new signal appears over the planet Boreth, home to a secretive Klingon monastery. Tyler contacts Chancellor L'Rell, and she warps to meet Discovery at Boreth to discuss Discovery's mission. She reveals that the monks of Boreth also act as protectors of a rare commodity – raw time crystals – but if Tyler shows his face, or identifies their son, her relatively peaceful reign over the Klingon Empire could come to a quick and bloody end, along with any hope of peace with the Federation. This convinces Pike that he must to negotiate for a time crystal, but to gain one, he will have to endure a rite of passage – seeing his own future – that has driven others insane in the past. When a Section 31 ship fails to check in on time, Saru assigns Burnham and Spock to investigate, and they find a drifting ship surrounded by the dead, frozen bodies of its crew…with the exception of one survivor, a former Shenzhou crewman recognized by Burnham. But the ship's computer awakens, under the thrall of Control, and it wants one thing: to take over Michael Burnham so it can gain access to the alien sphere data.
written by Bo Yeon Kim & Erika Lippoldt
directed by Doug Aarniokoski
music by Jeff Russo

Cast: Sonequa Martin-Green (Commander Michael Burnham), Doug Jones (Lt. Commander Saru), Anthony Rapp (Lt. Paul Stamets), Mary Wiseman (Cadet Sylvia Tilly), Wilson Cruz (Dr. Hugh Culber), Anson Mount (Captain Christopher Pike), Mia Kershner (Amanda), Mary Chieffo (L'Rell), Ethan Peck (Spock), Tig Notaro (Commander Jett Reno), Kenneth Mitchell (Tenavik), Rachael Ancheril (Lt. Cmdr. Nhan), Emily Coutts (Lt. Keyla Detmer), Patrick Kwok-Choon (Lt. Gen Rhys), Oyin Oladejo (Lt. Joann Owosekun), Ronnie Rowe Jr. (Lt. R.A. Bryce), Sarah Mitich (Lt. Nilsson), Ali Momen (Specialist Kamran Gant), Julianne Grossman (Discovery computer), Ian James Corlett (Section 31 computer), David Benjamin Tomlinson (Linus), Byron Abalos (Trainee #1), Olivia Croft (Trainee #2)

Notes: Captain Pike's future had been described in some detail in part one of The Menagerie (1966), and though some fan films have shown their own versions of the events described, this is the first time in studio-produced Star Trek that we have seen those events play out. (His eventual return to Talos IV in The Menagerie Part 2 is not shown, so Pike is deliberately choosing a future which he believes has no hope.) Tenavik says that the time crystals' name in the Klingon language is the namesake of their home planet, Qo'nos, which provides a handy explanation for humans' tendency to refer to Qo'nos as "Chronos" (Star Trek VI: The Undiscovered Country). Boreth was first seen in Star Trek: The Next Generation (Rightful Heir, 1993), though in the 24th century, the monks had turned their attention to manipulating both genetics and politics to create a clone of Kahless, with no mention made of time crystals, so it is unknown if the crystals are still under the watchful eye of the monks by the time of Worf's visit a century later. (Tenavik's rapid aging, on the other hand, puts Alexander's to shame.) L'Rell has apparently succeeded in shepherding the familiar D-7 battlecruiser design from the drawing board into production within a year. The stardate for this episode is not given in the episode itself, but in the season finale, Such Sweet Sorrow Part 2.
LogBook entry by Earl Green