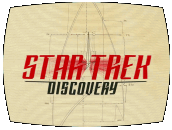 Stardate 1035.86: With his recent exposure to an unusual space phenomenon having accelerated Saru past the stage of life at which Kelpiens are expected to surrender themselves to culling by the Ba'ul, he is free of constant fear for the first time in his life. When the latest detection of one of the mysterious signals sends Discovery racing to Saru's home planet, he is eager to stand up for his species – perhaps, Captain Pike notes, too eager, as Saru has also undergone a radical shift in thinking regarding the "Great Balance", the belief system that keeps Kelpiens subservient to the Ba'ul. Should Saru revisit his planet and reveal that the Great Balance is a lie, that would be a clear violation of the prime directive, though Burnham argues that it doesn't apply to the Kelpiens, since the Ba'ul's presence has already revealed advanced technology to their prey. Saru introduces Burnham to his sister, Siranna, and learns that his own father was culled shortly after he left the planet. But Saru's return to Discovery triggers a swift response from the Ba'ul: they want him returned to the planet, and threaten the entire Kelpien race to secure his return. Saru allows himself to be taken aboard a Ba'ul ship. As Burnham, Tilly, and Airiam search records from the data downloaded from the sphere and discover that the balance of power on Kaminar was once quite different, Saru learns that he is far from defenseless against the Ba'ul… and is willing to break every Starfleet rule on the books to help his people achieve the same ability to protect themselves.
written by Bo Yeon Kim & Erika Lippoldt
directed by Doug Aarniokoski
music by Jeff Russo

Cast: Sonequa Martin-Green (Commander Michael Burnham), Doug Jones (Lt. Commander Saru), Anthony Rapp (Lt. Paul Stamets), Mary Wiseman (Cadet Sylvia Tilly), Wilson Cruz (Dr. Hugh Culber), Anson Mount (Captain Christopher Pike), Javier Botet (The Ba'ul), Hannah Chessman (Lt. Commander Airiam), Emily Coutts (Lt. Keyla Detmer), Patrick Kwok-Choon (Lt. Gen Rhys), Oyin Oladejo (Lt. Joann Owosekun), Ronnie Rowe Jr. (Lt. R.A. Bryce), Hannah Spear (Siranna), Julianne Grossman (Discovery Computer), Mark Pellington (Ba'ul voice-over), Raven Dauda (Dr. Tracy Pollard), David Benjamin Tomlinson (Linus / Kelpien Villager #1), Michael Ayres (Transporter Officer)

Notes: The pre-first-contact state of Kelpien society, and Saru's departure from Kaminar, were previously seen in the Short Treks episode The Brightest Star (2018). The stardate for this episode is not given in the episode itself, but in the season finale, Such Sweet Sorrow Part 2.
LogBook entry by Earl Green