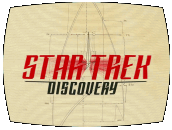 Stardate not given: A post-mortem scan of Lt. Commander Airiam's cybernetic implants allows Tilly to sift through the information uploaded into Airiam by Control, which includes detailed information on the Red Angel's spacesuit apparatus – an abandoned Section 31 time travel project – and its wearer, a perfect DNA match for one Michael Burnham. An artificial intelligence, the Control system used by Section 31, has also been following through the micro-wormholes allowing the suit to time travel. But even as Burnham reels from the news that the Red Angel's actions are apparently actions that she will take at some point in the future, she learns that her parents were Section 31 operatives using a time crystal stolen from Klingon space to build and power the suit…and that a younger Leland's irresponsibility is directly responsible for their deaths. But Spock, in studying the movements of the Red Angel to date and the appearance of the seven signals, has discovered that the signals do not necessarily correlate to appearances of the Angel. The Angel has, instead, responded only to situations when Burnham's life was in immediate danger, which makes sense: a future Burnham acting as the Red Angel can't allow younger Burnham to die. A trap is set on the inhospitable plant Essof IV, using Burnham as the bait to catch her older self. But once captured, the Red Angel is someone no one – especially not Michael Burnham – ever expected to see again.
written by Chris Silvestri & Anthony Maranville
directed by Hanelle M. Culpepper
music by Jeff Russo

Cast: Sonequa Martin-Green (Commander Michael Burnham), Doug Jones (Lt. Commander Saru), Anthony Rapp (Lt. Paul Stamets), Mary Wiseman (Cadet Sylvia Tilly), Wilson Cruz (Dr. Hugh Culber), Anson Mount (Captain Christopher Pike), Michelle Yeoh (Philippa Georgiou), Jayne Brook (Admiral Cornwell), Ethan Peck (Spock), Alan Van Sprang (Leland), Sonja Sohn (Dr. Gabrielle Burnham), Rachael Ancheril (Lt. Cmdr. Nhan), Hannah Cheesman (Lt. Cmdr. Airiam), Emily Coutts (Lt. Keyla Detmer), Patrick Kwok-Choon (Lt. Gen Rhys), Oyin Oladejo (Lt. Joann Owosekun), Ronnie Rowe Jr. (Lt. R.A. Bryce), Sarah Mitich (Lt. Nilsson), Jason Anthony (Control Computer)

Notes: Stamets echoes the 23rd century belief that wormholes are "inherently unstable", though the 24th century will see the discovery of a wormhole stabilized by an advanced alien species (Deep Space Nine: Emissary). Saru mentions Discovery's away team, a term more commonly associated with Star Trek: The Next Generation; as it's more or less interchangeable with "landing party", away team is probably a piece of Starfleet lingo that predates the 24th century, but just wasn't one we heard used by Captains Archer or Kirk. Spock's instant recall of Shakespeare's "Hamlet" persists even into his next life (Star Trek IV: The Voyage Home). Airiam's bridge station is now occupied by Lt. Nilsson – played by Sara Mitich, who played Airiam in the first season of Discovery.
LogBook entry by Earl Green