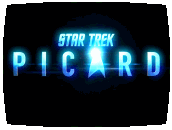 2399: Maddox has died in La Sirena's sick bay; though Agnes Jurati was with him at the time, she says his injuries were too severe. But he still had time to reveal Soji's location – on the Borg cube in Romulan space known as the Artifact – to Picard. Rafi calls in a favor from an old friend to get Picard permission to visit the Artifact, but Rafi then returns to her quarters (and the bottle), still stung by her son's rejection of her on Freecloud. Aboard the Artifact, Picard is haunted by memories of his own time as part of the Borg collective, but is brought back to the present by Hugh, a fellow reclaimed Borg who found his individuality aboard the Enterprise. Soji investigates her own personal belongings, finding out that photos, scrapbooks, and other personal effects are no more than three years old: her life has been a lie. Narek offers to share a Romulan ritual with Soji that would uncover the meaning of a series of disturbing dreams she has had – dreams that, in the end, reveal to her that she is constructed, not human. Once her dream/memory uncovers a clue to a possible location, Narek is done with Soji, sealing her in a room with a Romulan radioactive weapon and leaving her to her fate. Her strength as a synthetic life form now fully activated by the life-or-death situation, she tears through the floor of the room to escape, finding Picard and Hugh; Hugh reveals that the Borg long ago assimilated a Delta Quadrant technology that could allow Picard and Soji to escape, and Picard knows where Soji was constructed…but so do the Romulans.
written by Nick Zayas
directed by Maja Vrvilo
music by Jeff Russo

Cast: Patrick Stewart (Jean-Luc Picard), Alison Pill (Dr. Agnes Jurati), Isa Briones (Dr. Soji Asha), Evan Evagora (Elnor), Michelle Hurd (Rafi Musiker), Santiago Cabrera (Captain Cristobal Rios), Harry Treadaway (Narek), Jonathan Del Arco (Hugh), Peyton List (Narissa), Barbara Harris (Emmy), Sumalee Montano (Marisol Asha), Marti Matulis (XB Worker), Ella McKenzie (young Soji), Rico McClincton (Older XB), Charlie Newhart (Romulan Guard)

Notes: Hugh reveals that the entirety of the series to this point has happened in a two-week period. Romulan scientists and doctors aboard the Artifact have devised a way to reverse much of the physical remnants of Borg assimilation, though not the psychological effects. Soji has an "Adventures Of Flotter" lunchbox, hearkening back to a character from a 1998 episode of Star Trek: Voyager, Once Upon A Time, of which Naomi Wildman was also a fan. Narek's radiation-based weapon bears a strong similarity to the Thaleron radiation bomb deployed to eliminate the Romulan senate in the opening scenes of 2002's Star Trek: Nemesis. The Borg acquired the spatial trajector technology from the same race that Captain Janeway and the Voyager crew met in Prime Factors (1995). Picard was assimilated by the Borg in part one of The Best Of Both Worlds (1990), an event that continued to haunt him, especially during later encounters with the Borg such as Star Trek: First Contact (1996), brief flashes of which are shown as part of Picard's traumatic flashbacks.
LogBook entry by Earl Green