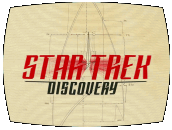 Stardate 1051.8: Discovery's crew evacuated to the Enterprise as Saru and Pike set the ship to auto-destruct…but the attempt to scuttle Discovery proves unsuccessful, as the alien sphere data has now integrated itself fully into the ship's computer, allowing it to once again protect itself from deletion or destruction. Burnham proposes a new course of action: a new time suit will be built, which she will pilot, with Discovery programmed to follow her into the far future. A new signal appears near the planet Xahea, home of Tilly's friend Po (who happens to be the planet's queen), who shares some of her planet's technology to help arm Discovery for the fight ahead and prepare the time crystal for use in a new time suit. Several members of Discovery's crew, as well as Nhan and Spock from the Enterprise crew, volunteer to stay aboard to ensure that the ship survives long enough to reach the future. Ash Tyler, however, readies himself for another mission – making sure that Control is eradicated from Section 31 forever.
written by Michelle Paradise & Jenny Lumet & Alex Kurtzman
directed by Olatunde Osunsanmi
music by Jeff Russo

Cast: Sonequa Martin-Green (Commander Michael Burnham), Doug Jones (Lt. Commander Saru), Anthony Rapp (Lt. Paul Stamets), Mary Wiseman (Cadet Sylvia Tilly), Wilson Cruz (Dr. Hugh Culber), Anson Mount (Captain Christopher Pike), Jayne Brook (Admiral Cornwell), James Frain (Sarek), Yadira Guevara-Prip (Po), Mia Kershner (Amanda), Tig Notaro (Commander Jett Reno), Ethan Peck (Spock), Rebecca Romjin (Number One), Sonja Sohn (Dr. Gabrielle Burnham), Alan Van Sprang (Leland), Rachael Ancheril (Lt. Cmdr. Nhan), Emily Coutts (Lt. Keyla Detmer), Patrick Kwok-Choon (Lt. Gen Rhys), Oyin Oladejo (Lt. Joann Owosekun), Ronnie Rowe Jr. (Lt. R.A. Bryce), Sara Mitich (Lt. Nilsson), Julianne Grossman (Discovery computer), Samora Smallwood (Lt. Amin), Hanneke Talbot (Lt. Mann), Chai Valladares (Lt. Nicola), Nicole Dickinson (Yeoman Colt)

Notes: Scenes from the Short Treks episode Runaway are shown as part of the recap. This is the first glimpse of the Enterprise bridge in Star Trek: Discovery, complete with tactile controls cast from the replicas created by James Cawley and company for the bridge set of the Star Trek: New Voyages fan series (which, following the release of a stricter set of fan film guidelines, ceased to be a working set and became the CBS-licensed Star Trek Original Set Tour attraction). Yeoman Colt makes a fleeting appearance, having evidently stayed aboard the Enterprise and stayed at the same rank since The Cage.
LogBook entry by Earl Green