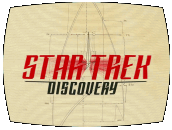 Stardate not given: Burnham comes to aboard Discovery and learns that she wasn't hallucinating: the Red Angel has been captured and immobilized, and inside the time-crystal-powered suit was Dr. Gabrielle Burnham, believed to have died over 20 years ago in a Klingon attack. However, Burnham's mother was also rendered unconscious by the extreme means used to capture the Red Angel suit, and Burnham herself must stay aboard Discovery until her treatment for exposure to both the elements on Essof IV and the burst of tachyon radiation generated by the Red Angel is completed. On the Section 31 ship, Georgiou begins to suspect that something is amiss with Captain Leland. What neither she nor Tyler know is that he has been taken over by Control, and the man they knew before is essentially dead. "Leland" concocts a cover story that Dr. Burnham is a vessel for Control, and orders Tyler to obtain the data Discovery holds from the spherical repository of alien knowledge encountered earlier. Dr. Burnham refuses to speak to her own daughter, instead opting to demand that Captain Pike delete the alien sphere data from Discovery's computer to avoid Section 31's Control AI from ever using that knowledge to evolve. But the sphere data has asserted itself within Discovery's main computer, protecting itself from deletion – and leaving the door open to a future in which Control destroys all life in the galaxy.
written by Alan McElroy & Brandon Schultz
directed by Maja Vrvilo
music by Jeff Russo

Cast: Sonequa Martin-Green (Commander Michael Burnham), Doug Jones (Lt. Commander Saru), Anthony Rapp (Lt. Paul Stamets), Mary Wiseman (Cadet Sylvia Tilly), Wilson Cruz (Dr. Hugh Culber), Anson Mount (Captain Christopher Pike), Michelle Yeoh (Philippa Georgiou), Ethan Peck (Spock), Alan Van Sprang (Leland), Sonja Sohn (Dr. Gabrielle Burnham), Kenric Green (Burnham), Rachael Ancheril (Lt. Cmdr. Nhan), Emily Coutts (Lt. Keyla Detmer), Patrick Kwok-Choon (Lt. Gen Rhys), Oyin Oladejo (Lt. Joann Owosekun), Ronnie Rowe Jr. (Lt. R.A. Bryce), Sarah Mitich (Lt. Nilsson), Arista Arhin (young Burnham)

Notes: Dr. Burnham knows of the fate that awaits Captain Pike in his future (Star Trek: The Menagerie Part 1), but says nothing more than that. No one in 23rd century Starfleet seems to be aware of time travel's role in Starfleet's past and future (see Star Trek: Enterprise), so presumably Captain Jonathan Archer took what he knew of the Temporal Cold War to his grave.
LogBook entry by Earl Green