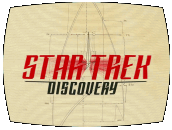 Stardate 1834.2: Having learned that Captain Lorca is, in fact, a native of the other timeline, Burnham races to contact Discovery to warn Saru of what she has learned. Lorca's insurrection against Emperor Georgiou comes to a head, and Burnham is caught in the middle. On Discovery, Saru and the crew brainstorm a mission to attack Georgiou's flagship, the Charon, to rescue Burnham and destroy Charon's power source, unleashing a torrent of mycelial energy in the process, allowing Discovery to return to its native timeline. But Discovery may not survive the rescue attempt, Georgiou may not survive Lorca's attempt to seize the throne, and Burnham may not be able to resist the temptation to undo a tragedy for which she feels responsible.
written by Ted Sullivan
directed by Olatunde Osunsame
music by Jeff Russo

Cast: Sonequa Martin-Green (Commander Michael Burnham), Doug Jones (Lt. Commander Saru), Shazad Latif (Lt. Ash Tyler / Voq), Anthony Rapp (Lt. Paul Stamets), Mary Wiseman (Cadet Sylvia Tilly), Jason Isaacs (Captain Gabriel Lorca), Michelle Yeoh (Emperor Georgiou), Rekha Sharma (Landry), Emily Coutts (Keyla Detmer), Jeremy Crittenden (Lord Eling), Patrick Kwok-Choon (Rhys), Sara Mitich (Airiam), Oyin Oladejo (Joann Owosekun), Ronnie Rowe Jr. (Bryce)

Notes: Mirror Lorca's attempt to beam away from the crippled Buran in the middle of an ion storm mirrors the transporter accident that took Kirk, McCoy, Uhura and Scotty to the Mirror universe in Mirror, Mirror (1967).
LogBook entry by Earl Green