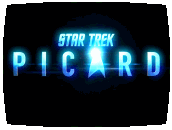 2399: Picard and Soji escape to the planet Nepenthe – not the planet where Soji was constructed, but rather a planet where Picard knows he can find refuge in the home of Will Riker and Deanna Troi, how former Enterprise shipmates. He introduces them – and their daughter Kestra – to Soji, who is still unsure she can trust anyone in her life. On the Artifact, where Elnor stayed behind to cover Picard's escape, the young Romulan now turns his sword to the task of defending Hugh from the Romulans. Whatever benefits the Romulans brought to the former Borg, Hugh now knows it wasn't out of altruism, and plans to take the Borg cube away from the Romulans – an ambition that costs him his life, leaving Elnor alone with only one chance to ask for help. On Nepenthe, Picard has to gain Soji's trust and try to elicit from her the same clues to her place of origin that the Romulans already have.
written by Samantha Humphrey & Michael Chabon
directed by Doug Aarniokosky
music by Jeff Russo

Cast: Patrick Stewart (Jean-Luc Picard), Alison Pill (Dr. Agnes Jurati), Isa Briones (Dr. Soji Asha), Evan Evagora (Elnor), Michelle Hurd (Rafi Musiker), Santiago Cabrera (Captain Cristobal Rios), Harry Treadaway (Narek), Jonathan Frakes (Will Riker), Marina Sirtis (Deanna Troi), Jonathan Del Arco (Hugh), Peyton List (Narissa), Tamlyn Tomita (Commodore Oh), Lulu Wilson (Kestra Riker), Kay Bess (La Sirena Computer)

Notes: Will Riker's home defense system is in place due to recent problems with Kzinti, a cat-like race created by Larry Niven and "imported" into the Star Trek universe in Niven's sole animated Star Trek episode The Slaver Weapon (1973). Kestra Riker is named after Deanna's sister, who died when Deanna was a baby (Dark Page, 1993). Deanna apparently never rose higher in rank than commander, a rank she achieved during her tour of duty on the Enterprise (Thine Own Self, 1994). Kestra's older brother, Thaddeus, was born around 2381, but died young due to a disease whose known cure would have to have been cultured in a synth's positronic matrix, meaning that Thad died as a result of the synth ban; Riker and his family moved to Nepenthe, a planet with natural healing qualities, in the hope of restoring him to health. Thad was named after an ancestor of Riker's who fought in the American Civil War (Death Wish, 1996).
LogBook entry by Earl Green