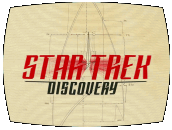 Stardate not given: Burnham returns to Vulcan to see if Sarek and Amanda have any answers about Spock's whereabouts, while Discovery remains in orbit of Kaminar to study residual affects of the appearances of the signal and the Red Angel. When deep scans are conducted, a temporal rift appears, and Pike sets out to pilot a shuttlecraft as close to the anomaly as he can without getting pulled in. He's annoyed when Tyler insists on going with him, as Section 31 has now claimed an interest in Discovery's mission and has placed Tyler aboard the ship on a semi-permanent basis. Temporal anomalies cause Pike to see events that have yet to happen, with no context, and before he knows it, the shuttle is sucked into the time rift…and the most recent future event he has forseen is himself firing a phaser at Tyler. On Vulcan, Burnham and Sarek discover that Amanda, claiming diplomatic immunity, has sequestered Spock in a Vulcan temple. Rambling quotes from the Vulcan principles of logic as well as Alice In Wonderland, Spock seems lost. Sarek insists that Burnham take Spock to Section 31 to receive medical attention, a prospect that she finds less than appealing – and, as Georgiou reveals to her when she arrives, with good reason. But an even more unlikely destination awaits Burnham – coordinates that Spock has been chanting repeatedly since she found him.
teleplay by Ted Sullivan
story by Ted Sullivan & Vaun Wilmott
directed by Marta Cunningham
music by Jeff Russo

Cast: Sonequa Martin-Green (Commander Michael Burnham), Doug Jones (Lt. Commander Saru), Anthony Rapp (Lt. Paul Stamets), Mary Wiseman (Cadet Sylvia Tilly), Wilson Cruz (Dr. Hugh Culber), Anson Mount (Captain Christopher Pike), Michelle Yeoh (Philippa Georgiou), James Frain (Sarek), Mia Kirshner (Amanda), Ethan Peck (Spock), Alan Van Sprang (Leland), Hannah Chessman (Lt. Commander Airiam), Emily Coutts (Lt. Keyla Detmer), Patrick Kwok-Choon (Lt. Gen Rhys), Oyin Oladejo (Lt. Joann Owosekun), Ronnie Rowe Jr. (Lt. R.A. Bryce), Julianne Grossman (Discovery Computer), Arista Arhin (young Burnham), Liam Hughes (young Spock)

Notes: The dumping and igniting of the shuttlecraft's fuel is very similar to a last-ditch maneuver executed by Spock roughly a decade later (TOS: The Galileo Seven); Rhys says it's a technique taught at Starfleet flight school, which makes it odd that Scotty and others don't recognize it on that future occasion. Talos IV was previously visited in the original Star Trek pilot, The Cage (1964), which was not shown on television in anything resembling its original form until 1988; footage from The Cage was worked into the 1966 two-parter The Menagerie, during which Spock returns a crippled Captain Pike to Talos IV, thus making that Spock's third visit and not his second. (That's two more visits than most Starfleet officers are expected to survive: The Menagerie establishes that travel to Talos IV is the only remaining death penalty under Starfleet's paramilitary law.) It's worth noting that Spock's mental state when he's first seen, including the repetition of phrases, is similar to that of T'Pol at the beginning of the Enterprise episode Shockwave Part II (2002), in which she is seen in a similar state of shock upon discovering that time travel is not only feasible but is in fact taking place. Spock originally fled to the Mutara Sector, an area of space where he will, in fact, later die during the battle with Khan for the Genesis Device (Star Trek II: The Wrath Of Khan, 1982).
LogBook entry by Earl Green