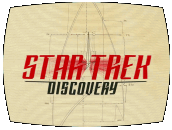 Stardate not given: Mere moments after Discovery's latest spore drive jump, it's obvious that the ship isn't where it's supposed to be. Rather than Starbase 46, Discovery is surrounded by debris from Klingon vessels, but not just any Klingon vessels: they were crewed by Vulcans and Andorians. Analysis of a data core from the wreckage reveals that Discovery has jumped into another universe, a parallel timeline in which the xenophobic Terran Empire wages war against all those not from (or subjugated by) Earth. The Empire's reign of terror dates back to the 21st century arrival of Vulcans on postwar Earth, but its reach was rapidly accelerated by the arrival of a more advanced starship from a variation of its own future. Discovery's crew has to act the part to find a way back to their own universe, and their own war, without arousing enough suspicion to get themselves killed.
written by Sean Cochran
directed by Jonathan Frakes
music by Jeff Russo

Cast: Sonequa Martin-Green (Commander Michael Burnham), Doug Jones (Lt. Commander Saru), Shazad Latif (Lt. Ash Tyler), Anthony Rapp (Lt. Paul Stamets), Mary Wiseman (Cadet Sylvia Tilly), Jason Isaacs (Captain Gabriel Lorca), Wilson Cruz (Dr. Hugh Culber), Mary Chieffo (L'Rell), Sam Vartholomeos (Captain Connor), Emily Coutts (Keyla Detmer), Patrick Kwok-Choon (Rhys), Julianne Grossman (Discovery Computer), Sara Mitich (Airiam), Alo Momen (Kamran Gant), Oyin Oladejo (Joann Owosekun), Ronnie Rowe Jr. (Bryce), Chris Violette (Britch Weeton), Romaine Waite (Troy Januzzi)

Notes: The Defiant's arrival from the future is chronicled in parts one and two of In A Mirror Darkly (2005), one of Star Trek: Enterprise's final adventures, though the ship's initial disappearance from several years into Discovery's future was first seen in 1968's The Tholian Web.
LogBook entry by Earl Green