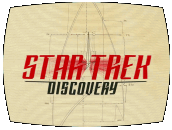 Stardate not given: Six months after her role in the fateful opening volley of the war between the Klingon Empire and the Federation, Michael Burnham has been stripped of rank and sentenced to life in prison for mutiny. But even that doesn't go smoothly: the prison shuttle is beset by space-faring microscopic life that drains electrical energy, and is tractored to safety by a huge Starfleet ship, the U.S.S. Discovery. Commanded by Captain Gabriel Lorca, the Discovery is seemingly fresh out of spacedock, and there are at least a few familiar surviving faces from the Shenzhou aboard, including Saru, now serving as Discovery's first officer. But wherever she shows her face, Burnham is a pariah at best, and yet Lorca seems to have singled her out, letting her work aboard the ship (under guard) rather than letting her sit in the brig. But the more she learns of the Discovery – and the fate of her sister ship, the Glenn – the more Burnham suspects that the ship's mission isn't purely scientific.
teleplay by Gretchen J. Berg & Aaron Harberts & Craig Sweeny
story by Bryan Fuller & Gretchen J. Berg & Aaron Harberts
directed by Akiva Goldsman
music by Jeff Russo

Cast: Cast: Sonequa Martin-Green (Commander Michael Burnham), Doug Jones (Lt. Commander Saru), Shazad Latif (Lt. Ash Tyler), Anthony Rapp (Lt. Paul Stamets), Mary Wiseman (Cadet Sylvia Tilly), Jason Isaacs (Captain Gabriel Lorca), Rekha Sharma (Commander Ellen Landry), Emily Coutts (Keyla Detmer), Julianne Grossman (Discovery Computer), Grace Lynn Kung (Psycho), Devon MacDonald (Engineering Officer), Sara Mitich (Airiam), Oyin Oladejo (Joann Owosekun), Conrad Pla (Stone), Ronnie Rowe Jr. (Shuttle Pilot), Christopher Russell (Milton Richter), Saad Siddiqui (Straal), Elias Toufexis (Cold), Tasia Valenzia (Shenzhou Computer)

Notes: The Zee-Magnees Prize is an award for groundbreaking scientific research; by Burnham's time, it has already been won by Dr. Richard Daystrom (The Ultimate Computer). Guest star Rekha Sharma gained genre fame as Tory Foster, President Roslin's aide de camp in the 21st century remake of Battlestar Galactica, and has appeared in Supernatural, V, and an episode of the fan-made series Star Trek Continues. Prior to her breakout role in Galactica, she had made numerous appearances in Dark Angel, the '90s revival of The Outer Limits, and Smallville.
LogBook entry by Earl Green