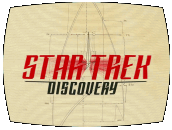 Stardate not given: Moments after receiving a distress signal from the Enterprise, Discovery receives a request from Captain Christopher Pike to beam aboard. Crippled in space by an inexplicable system-wide failure, the Enterprise has suffered serious damage, and Pike has orders from Starfleet Command to temporarily assume command of Discovery due to an impending crisis. The crew is somewhat skeptical of the unscheduled change in command, given that their previous captain turned out to be a treacherous impostor from a parallel universe, but the emergency at hand – the sudden emergence of seven simultaneous signals in different parts of the galaxy, emitting a powerful signal – demands an extraordinary response.
The one signal out of seven that can be tracked leads Discovery into a dangerous field of asteroids and debris, with a crashed Starfleet medical ship at its epicenter. Pike and Burnham lead an extremely dangerous rescue mission to see if there are survivors aboard the ship, finding the haggard engineer Commander Reno in her tenth month of keeping critically wounded survivors of the Klingon war alive with nothing more than whatever is still working in her downed ship. Burnham is nearly stranded amid the wreckage ensuring the escape, but Pike refuses to leave her behind – and just before he arrives, she sees an inexplicable apparition in a red haze. Other asteroids in the vicinity are causing the spores grown for Discovery's now-disused spore drive to react, and Tilly decides a sample is needed…in the form of an entire small asteroid. The Enterprise's damage is determined to be severe enough for it to be towed back to spacedock, and Captain Pike is assigned to remain in command of Discovery. Burnham hopes there will be time for her to visit her brother, Spock, aboard the Enterprise… but Pike reveals that Spock hasn't been aboard for quite some time.
written by Ted Sullivan & Gretchen J. Berg & Aaron Harberts
directed by Alex Kurtzman
music by Jeff Russo

Cast: Sonequa Martin-Green (Commander Michael Burnham), Doug Jones (Lt. Commander Saru), Anthony Rapp (Lt. Paul Stamets), Mary Wiseman (Cadet Sylvia Tilly), Wilson Cruz (Dr. Hugh Culber), Anson Mount (Captain Christopher Pike), James Frain (Sarek), Mia Kershner (Amanda), Tig Notaro (Commander Jett Reno), Hannah Chessman (Lt. Commander Airiam), Emily Coutts (Lt. Keyla Detmer), Patrick Kwok-Choon (Lt. General Rhys), Oyin Oladejo (Lt. Joann Owosekun), Ronnie Rowe Jr. (Lt. R.A. Bryce), Ethan Peck (Spock), Sean Connolly Affleck (Lt. Connolly), Rachael Ancheril (Commander Nhan), Arista Arhin (young Burnham), Raven Dauda (Dr. Tracy Pollard), Julianne Grossman (Discovery Computer), Liam Hughes (young Spock), Sara Mitich (Lt. Nilsson), David Benjamin Tomlinson (Linus)

Notes: Not to be confused with the Star Trek: The Next Generation episode Brothers (1990), Brother plunges head-first into the task of connecting the dots between Discovery and the rest of Star Trek continuity, including the revelation that the Enterprise's five-year mission of exploration under Pike took it beyond the reach of the Klingon war depicted in the first season of Discovery. Stamets' ethno-botanist former colleague aboard the Enterprise may or may not be one Hikaru Sulu, who didn't appear in The Cage (set four years prior to this episode) but may well have been aboard. Saru's sister Siranna (Short Treks: The Brightest Star) is mentioned as well. A transporter operator aboard Discovery appears to be wearing what may be a bulkier (primitive?) version of the VISOR worn by Geordi La Forge in The Next Generation. Commander Nhan, a member of Pike's crew from the Enterprise, is a Barzan (TNG: The Price). Pike's service record appears on Discovery's main viewscreen, allowing us to see that he took command of the Enterprise from its first commander, Captain Robert April (Star Trek: The Animated Series: The Counter-Clock Incident), and served under April prior to that.
LogBook entry by Earl Green