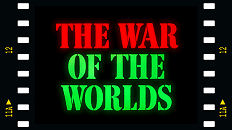 A fireball crashes into a mountainous area near a small California town, heralding the beginning of an invasion of Earth by beings from Mars, though no one realizes this yet. When Dr. Clayton Forrester, a physicist from Pacific Tech who happens to be vacationing nearby, takes a look at the object that survived re-entering Earth's atmosphere, he hypothesizes that it must be hollow, since a solid meteorite of that size would have left a much larger crater. Forrester catches the eye of the local librarian, Sylvia Van Buren, whose uncle, the town's church pastor, invites Forrester to stay with them while they wait for the object to reveal its true nature. But while two locals and a policeman keep a wary eye on the "meteorite" that night, an opening appears and a large, obviously artificial appendage emerges, appearing almost like a glowing red mechanical eye on a flexible stalk. When they break cover and approach it, that eye fires a beam of energy at the three men, incinerating them instantly and causing a power disruption in the nearby town. The townsfolk return to the crash site, and the appendage turns out to be just a small part of a flying Martian War Machine, a vehicle capable of surviving any human-made weapons. Even when the military is called in to direct its might toward the increasingly hostile alien device, its weapons are useless – and worse yet, other objects are landing in the hills nearby, and around the world, marking the beginning of the invasion in earnest. Forrester and Sylvia, seeking shelter in a house nearby, are trapped when another of the Martian "meteorites" slams into the side of the house. A different flexible eyestalk scans the house, and Forrester manages to disconnect it from its large, hose-like appendage; when a Martian leaves its War Machine to explore the house personally, Forrester attacks and injures it, managing to obtain some of its blood, which he and Sylvia then return to Pacific Tech so both the optical instrument and the blood can be examined by scientists. The President of the United States authorizes a nuclear strike against a nest of Martian War Machines, but their defensive shields allow them to survive the attack unharmed. The Martians begin advancing into major metropolitan areas, and everyone in Los Angeles is ordered to evacuate to safer, less densely-populated areas. Forrester and the other Pacific Tech scientists, with Sylvia's help, begin packing up their lab so they can continue their attempts to find a weakness in the Martians at a safer location, but the throngs of people trying to escape the city overpower their vehicles, throwing away precious scientific equipment in their own desperate attempts to evacuate. Forrester and Sylvia are separated, and by the time they find each other again, it seems as though the end of human civilization is near – until something completely unforeseen causes the Martian War Machines to begin tumbling out of the sky helplessly.
screenplay by Barré Lyndon
based upon the novel by H.G. Wells
directed by Byron Haskin
music by Leith Stevens

Cast: Gene Barry (Dr. Clayton Forrester), Ann Robinson (Sylvia Van Buren), Les Tremayne (Major General Mann), Bob Cornthwaite (Dr. Pryor), Sandro Giglio (Dr. Bilderbeck), Lewis Martin (Pastor Collins), Housely Stevenson, Jr. (General Mann's Aide), Paul Frees (Second Radio Reporter), Bill Phipps (Wash Perry), Vernon Rich (Colonrl Heffner), Henry Brandon (Crash Site Cop), Jack Kruschen (Salvatore)

Commentary by: Sir Cedric Hardwicke

Notes: The makers of Mystery Science Theater 3000 "borrowed" the name of Dr. Clayton Forrester for the mad scientist antagonist who tortures first Joel, and later Mike, with bad movies for the first seven years of that show. Paramount Pictures embarked on the production of a TV series sequel to this film in the late 1980s, one of a pair of genre series filmed in Canada to form an ad hoc genre programming package to accompany Star Trek: The Next Generation (the other series was a TV series using the name of another Paramount film franchise, Friday The 13th, though in that case there was no connecting tissue between the storylines of series and films). Ann Robinson appeared to reprise her role of Sylvia Van Buren very briefly in the War Of The Worlds TV series, which sees the Martians overcome their vulnerability to Earthly bacteria.
LogBook entry and review by Earl Green […]