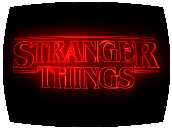 Hanging out at the local arcade as in fall 1984 is a perfectly ordinary activity, unless you live in Hawkins, Indiana and your name is Will Byers and it's been a year since the most terrifying experience of your life. One moment he feels like a storm is brewing outside the arcade, the next moment he – and the arcade – are in the Upside Down, and the storm clouds part to reveal an enormous spider-like creature. And then, just as suddenly, Will is back among his friends, who are more interested in who has beaten Dustin's high scores and left only the name "MADMAX". By coincidence, the boys have a new classmate named Maxine (though she prefers to go by Max); when they try to find out more about her, she leaves them a note to leave her alone…not that this discourages Justin or Lucas. Will's mother takes him to Hawkins National Lab to speak to a doctor there about his recent experience; both Will and Joyce have to be reassured that the lab is under new management, and Dr. Owens is looking out for Will. Another vision of the Upside Down, this time longer and scarier, grips Will. Elsewhere, Police Chief Jim Hopper has a dinner guest with a liking for Eggos.
written by Matt Duffer & Ross Duffer
directed by Matt Duffer & Ross Duffer
music by Michael Stein & Kyle Dixon

Cast: Winona Ryder (Joyce Byers), David Harbour (Jim Hopper), Finn Wolfhard (Mike Wheeler), Millie Bobby Brown (Eleven), Gaten Matarazzo (Dustin Henderson), Caleb McLaughlin (Lucas Sinclair), Noah Schanpp (Will Byers), Sadie Sink (Max), Natalia Dyer (Nancy Wheeler), Charlie Heaton (Jonathan Byers), Joe Keery (Steve Harrington), Dacre Montgomery (Billy), Cara Buono (Karen Wheeler), Sean Astin (Bob Newby), Paul Reiser (Dr. Owens), Linnea Berthelsen (Roman), Joe Chrest (Ted Wheeler), Catherine Curtin (Claudia Henderson), Brett Gelman (Murray Bauman), Kai L. Greene (Funshine), Randy Havens (Mr. Clarke), James Landry Hebert (Axel), Anna Jacoby-Heron (Dottie), Gabrielle Maiden (Mick), Rob Morgan (Officer Powell), Chelsea Talmadge (Carol), Glennellen Anderson (Nicole), Cynthia Barrett (Mrs. Holland), Alan Boell (Adams), Gilbert Glenn Brown (Cop #4), Matty Cardarople (Keith), Madelyn Cline (Tina), Abigail Cowan (Vicki), Brian F. Durkin (Cop #1), Joe Davison (Nerdy Tech), Lauren Halperin (Dr. Owens' Assistant), Christopher Johnson (Cop #2), Fenton Lawless (Merril), Charles Lawlor (Mr. Medvald), David A. MacDonald (Flamethrower Soldier), Aaron Munoz (Mr. Holland), Tinsley Price (Holly Wheeler), Susan Shalhoub Larkin (Florence), Tony Vaughn (Principal Coleman), Ricardo Miguel Young (TV Reporter)

Notes: Everything about the arcade feels spot-on, such as Dragon's Lair taking the world by storm in 1984, but one minor detail had to be changed for the story to work: neither Centipede nor Dig Dug allowed more than three characters on their high score screens. Neither game would have had room for "MADMAX" or "DUSTIN" on their high score tables. Paul Reiser isn't just the Mad About You guy or the My Two Dads guy; his role as Burke in 1986's Aliens gives him some serious genre cred.
LogBook entry by Earl Green