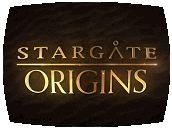 1928: A massive circular object, fashioned from stone and metal by advanced technology, is unearthed at an archaeological dig in Giza, Egypt, its purpose and origins unknown.
1938: Professor Paul Langford's study of the unearthed artifact has run aground – he's run out of funding, a German colleague has returned to Berlin without a word, and his daughter Catherine, who has been part of the study from its beginning, will soon return to the United States to take a job at a museum. Whatever the circular behemoth's secrets are, there's very little danger of them being found out with Langford's project running out of steam. Just when it seems things can't get any worse, agents of the German government arrive, claiming to know some of those secrets already.
written by Mark Ilvedson & Justin Michael Terry
directed by Mercedes Bryce Morgan
music by Robert Allaire

Cast: Ellie Gall (Catherine Langford), Aylam Orian (Wilhelm Brucke), Philip Alexander (James Beal), Sarah Navratil (Eva Reinhardt), Derek Chariton (Heinrich), Justin Michael Terry (Gunter), Lincoln Hoppe (Stefan), Connor Trinneer (Professor Paul Langford)

Notes: The cornerstone of the Stargate Command stream-on-demand service, Stargate Origins is a new web series derived from events recounted in The Tormant Of Tantalus, a first season episode of Stargate SG-1. Though that episode (and thus the character of Catherine Langford) was written by Robert C. Cooper, the credits of Stargate Origins indicate only that the series is based upon the original movie by Dean Devlin and Roland Emmerich. This is the first new Stargate project to go into production since the 2011 conclusion of Stargate Universe. Connor Trinneer is no stranger to the Stargate franchise, having played a recurring villain in the Stargate Atlantis spinoff series; he's probably better known for his role as Chief Engineer Charles "Trip" Tucker on Star Trek: Enterprise.
LogBook entry by Earl Green