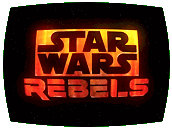 Kanan, Chopper and Ezra return with Sabine to Mandalore to fight the Imperial occupation of that planet, only to find that they've walked into a trap designed to deliver Sabine into the hands of the Saxon family. With the help of Mandalorians and Jedi alike, Sabine escapes the trap, only the discover that her father is being moved to another facility for public execution. Sabine and her ragtag group of followers, now including Mandalorians from House Kryze, intercept the convoy transporting her father. A fierce fight ensues, but he is rescued – just before a sound very familiar to Sabine heralds a new tragedy about to strike.
written by Henry Gilroy & Steven Melching
directed by Steward Lee
music by Kevin Kiner
additional music by David Russell, Sean Kiner, and Dean Kiner
based on original themes and music by John Williams

Cast: Taylor Gray (Ezra Bridger), Vanessa Marshall (Hera Syndulla), Freddie Prinze Jr. (Kanan Jarrus / Stormtrooper #2), Tiya Sircar (Sabine Wren), Steve Blum (Zeb / Stormtrooper #3 / Stormtrooper #4), Cary-Hiroyuki Tagawa (Alrich Wren), Katee Sackhoff (Bo-Katan Kryze), Andrew Kishino (Captain Hark / Stormtrooper #1 / Imperial Transport Driver #1), Kevin McKidd (Fenn Rau), Dave Filoni (Imperial Mandalorian Commander), Ritesh Rajan (Imperial Transport Driver #2 / Tristan Wren), Matthew Wood (Stormtrooper #5), Tobias Menzies (Tiber Saxon), Sharmila Devar (Ursa Wren)

Notes: Genre royalty peppers the cast of the two-part season opener, includuing Katee Sackhoff (Starbuck from the reimagined 21st century version of Battlestar Galactica) and Cary-Hiroyuki Tagawa, whose credits both in and out of the science fiction genre are almost too numerous to list here, including a regular role on the short-lived '90s space opera Space Rangers, guest appearances on Star Trek: The Next Generation, Alien Nation, Babylon 5, Stargate SG-1, and many others.
LogBook entry by Earl Green