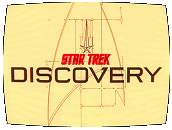 Stardate not given (3189): With the Federation returning to its former prominence, Starfleet's mission is now divided between distributing dilithium to previously scattered Federation members, allies, and even potential allies, and researching new means of non-dilithium-dependent propulsion (with Discovery's spore drive serving as the template for this research). Captain Burnham and Book, trying to re-establish diplomatic contract with the people of a non-Federation planet, barely escape with their lives after a bit of a misunderstanding about the royal status of Grudge… but once back safely aboard Discovery, Burnham has dilithium sent to them anyway, as a token of trust. Then it's back to Starfleet Headquarters, now no longer cloaked, to inaugurate the first class of new cadets at Starfleet Academy in over a century. An urgent distress call from a deep space repair station forces Burnham and her crew to prepare for immediate departure, but the newly elected President of the Federation insists on tagging along, despite Burnham's warning that the presence of the President could compromise not only her own safety, but that of Discovery's entire crew. The assignment turns out to be anything but routine: a rogue gravitational distortion has knocked that station off-axis and off-course, setting it into a spin that threatens to tear it apart and kill its crew. That same distortion is now headed toward Kwejian – which is also where Book has returned to attend to a family ceremony.
written by Michelle Paradise & Jenny Lumet & Alex Kurtzman
directed by Olatunde Osunsanmi
music by Jeff Russo
additional music by Sam Lucas

Cast: Sonequa Martin-Green (Captain Michael Burnham), Doug Jones (Captain Saru), Anthony Rapp (Lt. Paul Stamets), Mary Wiseman (Lt. Sylvia Tilly), Wilson Cruz (Dr. Hugh Culber), Blu del Barrio (Ensign Adira), David Ajala (Cleveland "Book" Booker), Oded Fehr (Admiral Charles Vance), Ian Alexander (Gray Tal), Chelah Horsdal (President Laira Rillak), Bill Irwin (Su'Kal), Emily Coutts (Lt. Commander Keyla Detmer), Patrick Kwok-Choon (Lt. Commander Gen Rhys), Oyin Oladejo (Lt. Commander Joann Owosekun), Ronnie Rowe Jr. (Lt. Commander R.A. Bryce), Sara Mitich (Lt. Commander Nilsson), Raven Dauda (Commander Tracy Pollard, M.D.), David Benjamin Tomlinson (Lt. J.G. Linus), Orville Cummings (Lt. Christopher), Luca Doulgeris (Leto), Rodrigo Fernandez-Stoll (Nalas), Ache Hernandez (Kyheem), Vanessa Jackson (Lt. Audrey Willa), Jodi Jahnka (Kelpien Council Member #1), Avaah Blackwell (Kelpien Council Member #2), Alex McCooeye (Lee'U), David Sobolov (Ba'ul Council Member #1), Adrian Walters (Cadet Taahz Gorev), and Grudge

Notes: Premiering simultaneously with the fifth episode of Star Trek: Prodigy, this was the first time since the last week of May 1999 that two Star Trek series had seen simultaneous distribution, though the franchise's means of distribution had changed significantly over 22.5 years. One would expect the President of the United Federation of Planets to have vast experience of other worlds, and Chelah Horsdal definitely qualifies, having been a regular in Amazon's series based on The Man In The High Castle, with guest roles in The 100, Arrow, Supernatural, Defying Gravity, Eureka, Stargate SG-1 and Atlantis, Battlestar Galactica, Smallville, The 4400, and Gene Roddenberry's Andromeda. The newly christened Archer Spacedock facility is accompanied by a quotation of Archer's theme from Star Trek: Enterprise. The Kobayashi Maru test at Starfleet Academy was first established in 1982's Star Trek II: The Wrath Of Khan (and was seen being aced by Kirk in a parallel timeline in 2009's Star Trek).
LogBook entry by Earl Green