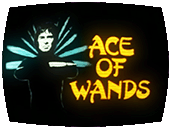 Tarot visits a run-down street market, learning that unlucky accidents have been befalling the merchants there – a grocer whose goods go rotten, a bookseller whose cart catches on fire, and so on. A trio of wandering street musicians draw Tarot's attention as well, particularly the somewhat threatening attitude of their spoon player. Tarot meets a photographer named Chas and his sister Mikki, discovering that he has a psychic link to Mikki similar to that which he once shared with Luli. Realizing that the stakes are becoming deadly, Tarot decides to stay and help revitalize that market, only to discover that someone doesn't want his help…and intends to send that message forcefully.
written by P.J. Hammond
directed by John Russell
music by Andrew Bown

Cast: Michael Mackenzie (Tarot), Petra Markham (Mikki), Roy Holder (Chas), Michael Standing (Spoon), Barry Linehan (Mockers), Paul Dawkins (Dove), Stefan Kalipha (Drum), Honora Burke (Madge), Neil Linden (Accordion Player)

Notes: This is the premiere of Ace Of Wands' third season, the only season of the show left intact by ITV's policy of erasing and reusing then-expensive videotape in the 1970s. While Doctor Who fans may feel unlucky that so many 1960s episodes of that series are missing, Ace Of Wands was produced much more recently, and none of its first two seasons' episodes now exist in the archives. Involving a crime-solving stage magician with mystic powers and ESP, the series introduced new characters in this episode, replacing the departed Roy (Tony Selby) and Luli (Judy Loe), who had been Tarot's accomplices in the first two years of the show.
LogBook entry by Earl Green