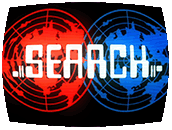 The secretary of talk show host Mark Elliott (who also happens to be running for a seat in the United States Senate) is kidnapped and held for a ransom, and Lockwood is called in to try to recover her, or at least find out where she's being held. Curiously, there seems to be a rush on Elliott's part to give in to the kidnappers' demands and pay the ransom, which raises Lockwood's suspicions even more. Every clue seems to be a dead end, because no one has considered the possibility that the kidnapper and the kidnap victim are the same person.
written by Jack Turley
directed by Joseph Pevney
music by Dominic Frontiere

Cast: Hugh O'Brian (Hugh Lockwood), Burgess Meredith (Cameron), Bill Bixby (Mark Elliott), Deanna Lund Matheson (Linda Harte), G.D. Spradlin (Mr. Ackerman), Victoria George (Anne Delaware), Brenda Benet (Carol Lesco), Philip Bourneuf (Mr. Kinser), Robert S. Carson (Mr. Hartley), John Warburton (Mr. Thomas), Peggy Walton (Sandra Elliot), Jim Goodwin (Hotel Clerk), Byron Bradley (Studio Guard), Byron Chung (Kuroda), Tony De Costa (Ramos), Ginny Golden (Keach), Albert Popwell (Griffin), Roy Jenson (Spencer)

Notes: Bill Bixby (1934–1993) had just ended a three-year run as the star of The Courtship Of Eddie's Father at the time of his guest shot on Search; he had also already been one of the stars of My Favorite Martian in the 1960s. Still ahead of him were a brief starring stint in The Magician (1973-74), and a five-year run as Dr. David Banner in The Incredible Hulk.
LogBook entry by Earl Green