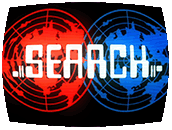 A fierce rivalry between two Las Vegas construction companies seems like a surprisingly local concern for PROBE Control's attention, but the reclusive nature of one of the companies' founders has gotten enough attention for someone to hire PROBE. C.R. Grover is called into action, and finds himself working alongside gossip columnist Kate Dawes, for whom this is just another attempt to interview enigmatic construction magnate J.R. Devlin. Grover assumes the guise of a city official, which brings him to the attention of both Devlin and his competitors, who suddenly withdraw their bid and focus their energy on Grover. Why is Grover suddenly the center of attention…and who hired PROBE?
written by John Christopher Strong and Michael R. Stein
directed by Nicholas Colasanto
music by Dominic Frontiere

Cast: Doug McClure (C.R. Grover), Burgess Meredith (Cameron), Barbara Feldon (Kate Dawes), David Brian (J.R. Devlin), Logan Ramsey (Kenyon Wade), George Gaynes (Major Matthews), Richard Le Pore (Striker), Wallace Chadwell (Barton), Harper Flaherty (Grady), Tiger Joe Marsh (Butler), Tony de Costa (Carlos), Byron Chung (Kuroda), Amy Farrell (Murdock), Ginny Golden (Keach), Albert Popwell (Griffin), Keone Young (Nagada)

Notes: Oh, bother – the "C.R." in Grover's name is revealed to stand for Christopher Robin.
LogBook entry by Earl Green