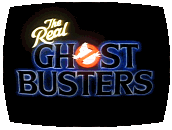 As Halloween approaches, the Ghostbusters are overworked – something is rattling the spirit world's cage, and Egon thinks a seventh-century Irish relic on display at a museum might be to blame. Goblin-like creatures activate the relic in a ritual, releasing the spirit of Samhain, who quickly claims all of the spirits and undead of New York City as his personal minions – including Slimer. Clocks and watches around the world begin to slow, and Egon deduces that Samhain intends to bring time to a stop so that Halloween night – his night – will never end. Worse yet, Egon has a plan that requires him to send Ray, Peter and Winston into harm's way so that he can shed some light on Samhain's scheme.
written by J. Michael Straczynski
directed by Richard Raynis
music by Haim Saban and Shuki Levy

Cast: Arsenio Hall (Winston Zeddemore), Maurice LaMarche (Dr. Egon Spengler), Lorenzo Music (Peter Venkman), Laura Summer (Janine Melnitz), Frank Welker (Dr. Raymond Stantz / Slimer), Bill Martin (Samhain), Julie Bennett (Cynthia Crawford)

Notes: The episode prominently features the song "Midnight Action", performed by Tahiti featuring Tyren Perry and Tonya Townsend; the featured songs in the first season all originated from the official soundtrack album for the series. Samhain returns in several later episodes.
LogBook entry by Earl Green