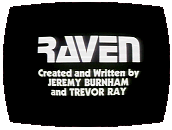 Following the miraculous rescue of Bill Telford, interest in Raven increases, both from the media and from those around him, though he's crushed to learn that this doesn't include any romantic interest from Naomi. Raven overhears a conversation between Naomi and Professor Young in which they believe that Raven may be the reincarnation of King Arthur, and when he confronts them about this, Professor Young tells Raven that his own natural authority in leading the rescue was the proof he needed. The Professor invites Raven to a meeting…set to take place at a stone circle near the dig site.
written by Jeremy Burnham and Trevor Ray
directed by Michael Hart
music not credited

Cast: Michael Aldridge (Professor Young), Patsy Rowlands (Mrs. Young), Phil Daniels (Raven), Shirley Cheriton (Naomi Grant), James Kerry (Bill Telford), Tenniel Evans (Editor), Harold Innocent (Minister), Ellis Jones (Vicar), Blake Butler (Stone), Hugh Thomas (Castle)

Notes: A stone circle figured prominently in Burnham & Ray's previous series, Children Of The Stones.
LogBook entry by Earl Green