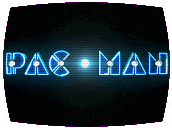 Deep in a secret underground facility in the Nevada desert, a small team of American scientists has created an amazing artificial life form. Capable of neutralizing any toxic spill, and potentially capable of eliminating almost any man-made hazard, the polymorphic autonomous compound manipulator – Pac-Man for short – could be the future savior of humanity. But first, Pac-Man and his creators must impress a military VIP with the power to shut down the project. Does Pac-Man stand a ghost of a chance?
screenplay by James Farr
directed by James Farr
music by Joshua Peterson

Cast: Cheryl Kimiko (Reporter), Jason Yang (Dr. Iwitani), Gloria Patton (Sue), Eric Barber (Colonel Midway), James Farr (R. Kade)

Notes: There are numerous in-jokes from the world of Pac-Man hidden in the short; if you give up on spotting them all, check "additional notes" at the end of this review.
LogBook entry and review by Earl Green

Review: A clever proof-of-concept short that rethinks Pac-Man as a round yellow pedestrian at an intersection between Tron, The Matrix and Stargate, this project from Tulsa-based Steelehouse Digital was envisioned as a kick-ass production demo to be sqeueezed in between the "paying jobs" (Steelehouse's commercial clients include Sonic, Honda, Mazzio's Pizza and Hasbro) as well as a valentine to the filmmakers' childhood icon.
But the resulting Pac-Man short does more than that. The

movie rights for Pac-Man have been in play for years, with virtually no forward motion to propel it any closer to getting greenlighted. By comparison, this short movie – hyped under the name Project Yellow Sphere – was written, shot and completed within a year, in Tulsa instead of Hollywood. Furthermore, the story – all six and a half minutes of it – hangs together about as well as anything could using Pac-Man as its framework.
As the project's own web site points out, "What the heck is a Pac-Man? What are the ghosts? And how exactly can a hungry yellow ball exit on the left side of the screen, and re-appear again on the right? On the surface, it was absolute, utterly random nonsense." Farr's script

answers all of these questions without "breaking the universe" of the game, does it with an economy of dialogue and jaw-dropping CGI effects for a something that lasts all of six minutes and change.
The cast – all locals for whom playing Pac-Man isn't a full-time gig – are credible in their roles, and likeable enough that I could see sticking with these performers as these characters for a full-length movie. (Writer/director/actor James Farr has fessed up that he's got a feature-length story mapped out for Pac-Man, of which this is just a small slice, and it's probably the closest anyone's gotten to piloting Pac-Man out of development hell.)

That's all easy to say when this short had no official input from Namco and didn't have to wait for a yea-or-nay vote to go into production, but I hope that won't deter the filmmakers from keeping this project alive on the back burner. Maybe crank out the entire story as a series of webisodes of roughly the same length. Or maybe pitch the completed short to Namco in a bid to snag the movie rights above-board. It's fun, it's inoffensive, and it doesn't damage the brand, so why not? And in over a decade, it's as close as we've gotten to someone actually doing a Pac-Man movie.
Here's hoping the folks behind this don't forget that after level one comes level two.
Additional Notes: Not even running to seven minutes, Pac-Man is loaded down with easter eggs for Pac-Man and old-school video game fans:

The "newscast" opening is on the fictional station "KLYD"; appropriately enough, the station's graphics package is orange like Clyde the monster. (The newscaster, on the other hand, is genuine: she works at Fox 23 in Tulsa.)
The scrolling "ticker" in the newscast scene includes blink-and-you'll-miss-'em mentions of other Namco games, including Time Crisis, Rally-X, Tank Battallion, Assault, and Pole Position.
Project Yellow Sphere tech Sue is wearing a pink bow, a la Ms. Pac-Man.
Sue has a necklace inspired by the "cherry" graphic in the arcade game; her fellow controller, "R. Kade," has a coffee mug with a pretzel on it (another of the "fruit" prizes from the game).
Namco's logo can be spotted on Sue's touch-screen display console, reformatted as "Nam Co."

The character of "Dr. Toru Iwitani" is named after the designer of Pac-Man. "Colonel Midway" is named after the arcade manufacturer that brought Pac-Man to the English-speaking world.
The "underground tunnel" through with Iwitani and Midway walk at the beginning has numbers painted on the walls; these numbers (200, 400, 800, 1600) are the point values for eating ghost monsters after chowing down on a single power pellet in Pac-Man.