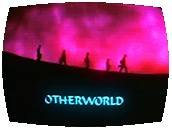 The "Hardins" have fled to the agricultural town of Tarka, trying to shake off Kroll's pursuit. But with his life as he knew it a relic of the past, Trace finds it difficult to concentrate on school. His grades continue falling until he is drafted into the uniformed Zone Troopers at nearby Camp Triangula. The merciless 13-week program promises to turn Trace and his fellow trainees into ruthless killing machines serving the state. Trace realizes that the only way he can survive this boot camp is to angle for an officer commission, otherwise he'll be a Zone Trooper until the day he dies. He works hard to reach officer rank, but on graduation day, he learns that his final test will be to hunt down and kill fugitives like his own family.
teleplay by Coleman Luck
story by Roderick Taylor & Bruce A. Taylor
directed by Richard Compton
music by Sylvester LeVay

Cast: Sam Groom (Hal Sterling), Gretchen Corbett (June Sterling), Tony O'Dell (Trace Sterling), Jonna Lee (Gina Sterling), Chris Hebert (Smith Sterling), Jonathan Banks (Kroll), Mark Lenard (Commander Perel Sightings), Dominick Brascia (Hobert Racks), Robert O'Reilly (Drill Instructor), Kevin Scott Allen (Brindle), Bryan McGuire (Sergeant), Wayne Alexander (Aid), Nadine van der Velde (Girl), Michael McGrady (Zone Trooper), Robert L. Gibson (Teacher), Greg Elliot (Christopher), Kay Tornborg (Map Instructor), Bill Covert (Brax), Dale Butcher (Instructor), Brian Thompson (D.I. #2), Steven Whiteford (Flight Instructor)

Notes: The Sterlings are now the Hardins (presumably the Sterlings are having to adopt aliases as they travel). It's all-star Major Recurring Star Trek Actors week at Otherworld: Mark Lenard played Spock's father Sarek in the classic Star Trek series (both live-action and animated) and movies, while Robert O'Reilly played Klingon Chancellor Gorwon in numerous episodes of Star Trek: The Next Generation and Deep Space Nine from 1990 through 1999. Brian Thompson also played numerous alien characters in various Trek episodes, and Otherworld's unit production manager (in its post-pilot weekly series format) is one David Livingston, who served as a line producer on Next Generation, Deep Space Nine, Voyager and Enterprise, as well as directing several episodes of each.
LogBook entry by Earl Green