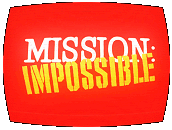 When the United States government learns that an enemy superpower has given two nuclear warheads to a dictator in a small island country in the Caribbean for imminent use, Daniel Briggs and the Impossible Mission Force (IMF) are called into action. Briggs selects his team – electronics expert Barney Collier, master impersonator Rollin Hand, strongman Willy Armitage, the distractingly beautiful Cinnamon Carter, and Terry Targo, a safecracker with skills and a rap sheet to match – and hatches an elaborate plan: Hand will impersonate the dictator, derailing a public appearance, while Barney ensures that TV and radio coverage of that appearance never happen. Targo is smuggled into the same hotel vault as the warheads, and must assess the plan to steal them with limited oxygen, but his fingers are broken when the team rushes the dictator's heavily guarded hotel room. Briggs, in the meantime, plans to interrogate the dictator for information on the warheads, which are contained in a safe of their own – and may explode if the safe is not opened properly. With Targo out of commission, it will now be Briggs who is smuggled back into the vault to steal the warheads. The dictator's aide de camp, growing suspicious that a coup is imminent, begins tightening security, and Briggs must determine how to steal the nukes without also detonating them.
written by Bruce Geller
directed by Bernard L. Kowalski
music by Lalo Schifrin

Cast: Steven Hill (Daniel Briggs), Barbara Bain (Cinnamon Carter), Greg Morris (Barney Collier), Peter Lupus (Willy Armitage), Martin Landau (Rollin Hand / Rio Dominguez), Wally Cox (Terry Targo), Harry Davis (Alisio), Paul Micale (Desk Clerk), Patrick Campbell (Day Vault Clerk), Fredric Villani (Night Vault Clerk), Joe Breen (Loft Manager)

Notes: When it sold successfully to CBS in 1966 at roughly the time that its Desilu Productions stablemate Star Trek sold to NBC, Mission: Impossible was part of a major turnaround for a studio that was otherwise known at the time for producing The Lucy Show. Peter Graves would not join the series until its second year on the air, and Martin Landau is credited as a guest star, a trend that would continue throughout the first season with a "special appearance by" credit, prior to his promotion to a series regular in season two.
LogBook entry by Earl Green