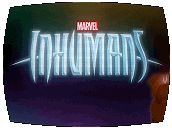 A young woman is on the run in the forests of Oahu, Hawaii, when she encounters a man with green skin. His name is Triton, and he is obviously not human. But then, he explains, neither is she. She is one of the humans to have inhaled terrigen mists, and has gained new abilities as a result. But she'll never be accepted by human society once she reveals her powers.
In the city of Atillan, hidden from human view on the surface of the moon, Black Bolt, the king of the Inhumans, is under scrutiny for dispatching Triton to Earth for what now looks like it may have been a suicide mission. Black Bolt's brother, Maximus, is especially angry with the decision, and tries to sow dissent among the ruling council, and even between the king and queen themselves. Gorgon, the head of the royal guard, is sent to Earth to find out what happened to Triton, but in his absence, Maximum sets a plan into motion: a coup to seize the throne for himself. Crystal, younger sister of Black Bolt's wife, Medusa, orders her pet, Lockjaw, to use his teleportational powers to spirit the royal family and their closest allies and advisors to safety on Earth, but Crystal herself is captured by Maximum, as is Lockjaw, when he returns to save her.
Though Black Bolt and the others try to fit in on Earth, it's hard to disguise their powers. This makes them far too easy to find, both for the authorities on Earth and Maximus' new regime on the moon, especially when Maximus dispatches his personal guard, Auran, to round up Medusa, Gorgon, and Karnak…but her orders are to kill Black Bolt on sight.

written by Scott Buck
based on the comics by Stan Lee and Jack Kirby
directed by Roel Reine
music by Sean Callery

Cast: Cast: Anson Mount (Black Bolt), Serinda Swan (Medusa), Ken Leung (Karnak), Eme Ikwuakor (Gorgon), Isabelle Cornish (Crystal), Ellen Woglom (Louise), Iwan Rheon (Maximus), Mike Moh (Triton), Sonya Balmores (Auran), Nicola Peltz (New Inhuman), Marco Rodriguez (Kitang), Tom Wright (George Ashland), Michael Buie (King Agon), Tanya Clarke (Queen Rynda), Ari Dalbert (Bronaja), Aaron Hendry (Loyolis), Stephanie Anne Lewis (Paripan), Garret T. Sato (Lead Mercenary), Allen Clifford Cole (Outspoken Inhuman), Lofton Shaw (Young Black Bolt), V.I.P. (Young Medusa), Jason Lee Hoy (Royal Guard Sergeant), Steve Trzaska (Doudan), Jenna Bleu Forti (Lovely Inhuman Server), Jason Quinn (Pulsus)
LogBook entry by Earl Green