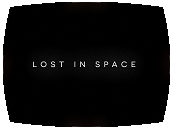 The Resolute, a massive space colony ship outbound from Earth, is attacked by robots of unknown origin; the colonists are ordered to evacuate in their landfall craft. But unknown to any of them, a rift in spacetime has opened, sucking in the evacuating colonists' ships, and the wreckage of the Resolute, and depositing them in another galaxy far beyond the reach of Earth. The Robinson family's landfall craft, the Jupiter 2, homes in on a barely-habitable planet and comes down for a hard landing on a frozen lake. Moments after evacuating the ship containing all of their survival gear, the Robinsons are helpless to do anything but watch as their ship's heat melts the ice, allowing it to sink into the water. Combat veteran John Robinson seems to be unable to get his wife, Maureen, or any of their three children to stick to anything resembling military discipline. Maureen's leg, broken in the crash, is a cause for immediate concern. Judy Robinson, the eldest daughter, dives into the water to retrieve batteries to power their makeshift camp, only to be trapped beneath the rapidly refreezing ice in a spacesuit that will eventually run out of oxygen. Penny Robinson, the middle child, is left to look after her mother while John and his son Will go to search for magnesium that could be ignited to burn through the thick ice. Will falls into an ice tunnel, emerging in a heavily wooded area, where he discovers that he is not the only crash survivor: one of the robots has survived, but in the crash has forgotten its hostile intent. Will persuades it to reunite him with his family and to help them survive the various dangers. Neither Will nor any of his family saw the attacking robots, and do not realize that one of their attackers is now among them. They only know that they wouldn't have survived their first night on this planet without it.
written by Matt Sazama & Burk Sharpless
based on the teleplay Lost In Space: No Place To Hide by Irwin Allen and Shimon Wincelberg
directed by Neil Marshall
music by Christopher Lennertz
original Lost In Space theme by John Williams

Cast: Molly Parker (Maureen Robinson), Toby Stephens (John Robinson), Maxwell Jenkins (Will Robinson), Taylor Russell (Judy Robinson), Mina Sundwall (Penny Robinson), Ignacio Serricchio (Don West), Parker Posey (Dr. Smith), Brian Steele (Robot), Bill Mumy (Dr. Zachary Smith), AnnaMaria Demara (Tam Roughneck), Natasha Quirke (Salesperson), Vanessa Eichholz (News Anchor)

Notes: Arriving 20 years after the previous one-off big screen remake and over 50 years after the original series, the premiere episode of the reimagined Lost In Space still finds a moment to look back over its shoulder, casting Bill Mumy (the original Will Robinson) in a blink-and-you'll-miss-it cameo as the "real" Dr. Smith (whose identity is stolen by Parker Posey's character, whose real identity would be revealed later in the season).
LogBook entry by Earl Green