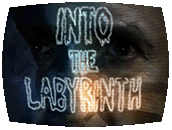 Denied the Nidus by Belor yet again, Helen, Terry and Phil are brought back to their present, in the cave where they first met Rothgo. His powers and life force fading fast, Rothgo releases them from their obligation to find the Nidus: the fight is lost. But they stubbornly re-enter the labyrinth one last time to try to recover the Nidus. Their destination: the labyrinth of myth, in which Theseus is thought to have fought the minotaur. But in reality, Theseus is doing the bidding of Belor: his sword is the Nidus itself, and Phil is chosen to be Rothgo's champion in the fight to claim the Nidus. Only if Phil is successful can he, Helen and Terry ever go home again.
written by Anthony Read
directed by Peter Graham Scott
music by Sidney Sager

Cast: Ron Moody (Rothgo), Pamela Salem (Belor), Lisa Turner (Helen), Simon Henderson (Terry), Simon Beal (Phil), Jeremy Arnold (Theseus), Philip Manikum (Guard)

Notes: This concludes Into The Labyrinth's first series (of three years on the air), but for viewers of the series on the American cable network Nickelodeon, this was the end of the story: Nickelodeon did not air the two later seasons.
LogBook entry by Earl Green