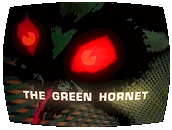 After informing police that he knows something about his father's death, a young man is murdered in plain sight before the eyes of 20 people, shot at point-blank range…and yet no one around him heard the shot fired or saw a muzzle flash. This catches the attention of Daily Sentinel publisher Britt Reid, who spends his off hours fighting crime in the guise of the Green Hornet, his faithful butler and martial arts expert Kato at his side. When another murder is committed, the Green Hornet and Kato begin closing in on likely suspects, including rival organized crime bosses. They both want a gun that can kill without being heard or seen…but only one of them has it. And they both have it in for the Green Hornet.
written by Ken Pettus
directed by Leslie H. Martinson
music by Billy May

Cast: Van Williams (The Green Hornet), Bruce Lee (Kato), Wende Wagner (Lenore Case), Lloyd Gough (Mike Axford), Walter Brooke (District Attorney Frank Scanlon), Lloyd Bochner (Dan Carley), Kelly Jean Peters (Jackie Cameron), Ed McCready (Detective Olson), Al McGranary (Minister), Breland Rice (Policeman), Charles Francisco (Al Trump)

Notes: Not so much a spinoff of Batman as a new show taking place in what may or may not be the same "universe", The Green Hornet – based on a 1930s radio serial – was made by many of the same personnel as Batman, and was intended to be a bit more gritty and less campy than its superhero stablemate. If The Green Hornet is a spinoff of anything, it's actually a spinoff of a fellow radio show, The Lone Ranger, as both were created by George W. Trendle, whose original radio scripts specified that Britt Reid is the son of Dan Reid, the Lone Ranger's nephew.

This TV adaptation was also the western audience's introduction to rising martial arts star Bruce Lee, who performed his own stunts (and, by many accounts, inadvertently but repeatedly injured stuntmen in fight scenes). By the end of the show's single season on the air, the popularity of Lee and his character threatened to eclipse the show's nominal star. Despite that popularity, since ABC scheduled it on Friday nights against the more established series The Wild Wild West, The Green Hornet was cancelled early in 1967.
LogBook entry by Earl Green