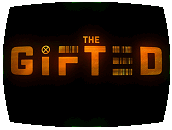 Stranded when Clarice is unable to keep the escape portal open, Reed Strucker is now in the hands of Sentinel Services. He demands to see an attorney, but it is clear that, simply by associating with mutants, he has been labeled a threat and relieved of any and all civil rights. If Sentinel Services can't find Strucker's children, they're not above reeling in other family members who have no idea what's going on.
Left physically exhausted by holding the portal open for so long, Clarice is unable to control random outbursts of her ability. Portals open at random to the street outside, where police are preparing to mount an assault on the mutants' headquarters; Lauren Strucker has to use her ability to close off Clarice's unintentional portals. When Lauren is exhausted, Andy directs his rage-fueled ability at the police outside, but this makes things worse: as with his school before, the building in which the mutants are taking shelter is no longer safe or stable. Clarice is injured and her unconscious random portal opening becomes a dangerous rapid-fire exercise in not accidentally falling through to an unknown location. Caitlin Strucker, a nurse before going on the run with her children, enlists Marco's help to retrieve a drug that can stabilize Clarice, but their plan only draws more attention to what is seen as a growing mutant threat.
written by Matt Nix
based on the X-Men comics by Stan Lee and Jack Kirby
directed by Len Wiseman
music by John Ottman & David Buckley

Cast: Stephen Moyer (Reed Strucker), Amy Acker (Caitlin Strucker), Sean Teale (Marcos Diaz / Eclipse), Natalie Alyn Lind (Lauren Strucker), Percy Hynes White (Andy Strucker), Coby Bell (Jace Turner), Jamie Ching (Clarice Fong / Blink), Blair Redford (John Proudstar / Thunderbird), Emma Dumont (Lorna Dane / Polaris), Garret Dillahunt (Dr. Roderick Campbell), Elena Satine (Dreamer), Folake Olowofoyeku (Scar), Chris Butler (Dr. Watkins), Sharon Gless (Ellen Strucker), Christian Adam (Obnoxious Guy #1), Aerli Austen (Amber), DAve Blamy (Father), Jacinte Blankenship (Mutant Mom), Christabelle Rose Chapman (Obnoxious Girl), Ava Culpepper (Daughter), Tony Demil (Guard #2), Jordan Eli (Young Boy), Katelyn Farrugia (Nurse), Dinarte de Freitas (Pedro), Monique Grant (Guard #1), Barbara Hawkins-Scott (Desk Nurse), Josh Henry (Ben), Jason Jamal Ligon (Side-Eye), Hayley Lovitt (Sage)

Notes: It's a Burn Notice reunion! The Gifted showrunner Matt Nix was also creator of the hit spy series Burn Notice, which starred former Cagney & Lacey star Sharon Gless as Michael Westen's mother; here she plays Reed Strucker's mother. Coby Bell, who joined Burn Notice in its third season as Jesse Porter, is a regular on The Gifted.
LogBook entry by Earl Green