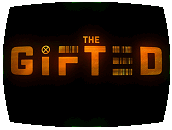 Police squad cars pursue a young woman in Atlanta, only to lose track of her when she opens a glowing portal out of nowhere with her bare hands, leaping through it. She emerges through another portal in an abandoned building, and finds herself surrounded by others – others like herself. Police converge on the building, and after a fierce fight between police revolvers and powers almost beyond human comprehension, two of the suspects are taken into custody, while two of the cops are killed.
Teenager Lauren Strucker's socially awkward younger brother Andy sneaks out of the house to accompany her to a school dance. When he's picked on and tortured by the school bullies, Andy goes into a rage, unleashing an enormous amount of energy that almost brings the walls of the school down. Lauren, aware of his powers, drags Andy out of the school and races home. The incident has already made the news, attracting federal attention as America debates taking tougher measures to detect and contain mutants among the population. As Lauren explains to her mother that she and Andy have latent mutant powers, there's a knock at the door. But it's not the police, or indeed anyone with even the slightest respect for civil rights. Sentinel Services wages a secret war against the mutant populace. Andy again unleashes his powers to help his family escape. The Struckers are on the run.
This poses a serious dilemma for Reed Strucker, an attorney who has prosecuted cases involving mutants in the past…but he's also in a very good position to know about the underground network that the mutants have built to protect themselves. Now he has to depend on the people he once helped to hunt down to save his children and his wife…and even if he can convince the mutants to help, it may not be enough to save Reed Strucker himself.
written by Matt Nix
based on the X-Men comics by Stan Lee and Jack Kirby
directed by Bryan Singer
music by John Ottman

Cast: Stephen Moyer (Reed Strucker), Amy Acker (Caitlin Strucker), Sean Teale (Marcos Diaz / Eclipse), Natalie Alyn Lind (Lauren Strucker), Percy Hynes White (Andy Strucker), Coby Bell (Jace Turner), Jamie Ching (Clarice Fong / Blink), Blair Redford (John Proudstar / Thunderbird), Emma Dumont (Lorna Dane / Polaris), Toks Olagundove (Carla Jackson), Dale Godboldo (Ted Baird), Steffan Argus (Jack), Pierce Foster Bailey (Trevor), Giovanni DeVito (Dax), Billy Blair (Truck Driver), Dinarte de Freitas (Pedro), Dalton Gray (Jake), Josh Henry (Ben), Roscoe Johnson (Guard), Cynthia Jackson (Waitress), Jason Jamal Ligon (Side-Eye), Hayley Lovitt (Sage), Joe Nemmers (Agent Weeks), Jeff Daniel Phillips (Fade), Scott Parks (Passenger Cop), Jermaine Rivers (Shatter), Matthew Tompkins (Cal Jameson), Stan Lee (Stan Lee)

Obligatory Stan Lee cameo: Lee walks out of the bar, pausing in the doorway as he passes Marcos, who is en route to meet with Reed Strucker. Hi, Stan!

Notes: Though the X-Men are mentioned briefly, The Gifted presents a more small-scale look at the plight of mutants in America. The series is not based upon a particular comic, but was created by Matt Nix (creator and showrunner of the hit spy series Burn Notice) as a story taking place in the X-Men's "universe". Since the show is produced by 20th Century Fox (as opposed to Disney/ABC), The Gifted may share universes with that studio's X-Men films, but is not part of the continuity of the bulk of Marvel's Disney-produced film and TV output.
LogBook entry by Earl Green