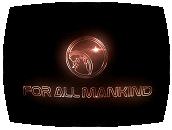 1971: A flyover of Shackleton Crater at the moon's south pole reveals a much higher concentration of water ice than exists at Apollo 15's planned landing site at Mare Frigoris. With pressure from both mission commander Ed Baldwin and from the White House itself, concerned that finding water ice on the lunar surface could jumpstart plans for a permanently occupied lunar military base ahead of the Soviets, Apollo 15's flight plan is changed late in the game, but Baldwin and Cobb still manage to bring their lunar module in for a safe landing…but on the rim of the crater, rather than inside it, where so little sunlight hits the crater floor that it's impossible to see. But the ice isn't on the rim in the sunlight, and another major change to the mission plan is made: one of the astronauts must rappel into the crater with a makeshift harness made of items that were never intended to serve that purpose. Molly Cobb, pointing out that she's lighter, is the ideal candidate…but the search for the all-important ice could become a life-or-death mission.
written by David Weddle & Bradley Thompson
directed by Sergio Mimica-Gezzan
music by Jeff Russo

Cast: Joel Kinnaman (Edward Baldwin), Michael Dorman (Gordo Stevens), Sarah Jones (Tracy Stevens), Shantel VanSanten (Karen Baldwin), Jodi Balfour (Ellen Waverly), Wrenn Schmidt (Margo Madison), Chris Bauer (Deke Slayton), Sonya Walger (Molly Cobb), Eric Ladin (Gene Kranz), Michael J. Harney (Jack Broadstreet), Dan Donohue (Thomas Paine), Krys Marshall (Danielle Poole), Lenny Jacobson (Wayne Cobb), Edwin Hodge (Clayton Poole), Dave Power (Frank Sedgewick), Noah Harpster (Bill Strausser), Nick Toren (Tim "Bird Dog" McKiernan), Daniel Scott Robbins (Hank Poppen), Nick Wechsler (Fred), Teddy Blum (young Shane Baldwin), Jason Scott David (young Daniel Stevens), William Lee Holler (young Jimmy Stevens), Tracy Mulholland (Gloria Sedgewick), Benjamin Seay (Ray Schumer), Korey Simeone (Doctor Chase), Nick Heyman (Sentry)

Notes: In the alternate timeline of For All Mankind, the Apollo missions upgrade to something a bit more modern than the DSKY computers that powered the real Apollo missions. In reality, ice wasn't discovered to be likely in Shackleton Crater until 2012, when NASA's Lunar Reconnaissance Orbiter detected signs that nearly a quarter of the surface material in the crater was probably water ice.
LogBook entry by Earl Green