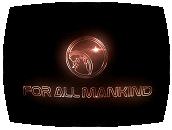 September 1969: Thanks to the lopsided but miraculously survivable landing, and later successful return, of Apollo 11, NASA is still in the business of going to the moon, but when the CIA obtains blueprints for a Soviet lunar military base, the stakes get higher. Wernher von Braun and the rest of NASA have new marching orders from President Nixon to do whatever is necessary to beat the Soviet Union to this goal, beginning with Apollo 12. von Braun ridicules the idea; Apollo is meant to be a civilian scientific endeavor in his eyes. This doesn't sit well with Nixon, however, and in Washington the wheels begin turning to oust von Braun from his very secure seat at NASA. One person who becomes key to this plan is grounded astronaut Ed Baldwin, but when invited to offer public testimony before Congress, Baldwin takes responsibility for sticking to Apollo 10's non-landing flight plan, and then resigns from NASA to rejoin the Navy. And when von Braun is invited to testify, he is ambushed with accusations that he had full knowledge that Jewish slave laborers were worked to death to build his V2 rockets during World War II. The launch of Apollo 12 is moved up from December to September 1969, but the Soviets launch another lunar mission of their own just before Apollo 12's liftoff, again upstaging NASA – this time by putting the first woman on the moon.
written by Matt Wolpert & Ben Nedivi
directed by Seth Gordon
music by Jeff Russo

Cast: Joel Kinnaman (Edward Baldwin), Michael Dorman (Gordo Stevens), Sarah Jones (Tracy Stevens), Shantel VanSanten (Karen Baldwin), Jodi Balfour (Ellen Waverly), Wrenn Schmidt (Margo Madison), Chris Bauer (Deke Slayton), Colm Feore (Wernher von Braun), Eric Ladin (Gene Kranz), Michael J. Harney (Jack Broadstreet), Saul Rubinek (Rep. Charles Sandman), Dan Donohue (Thomas Paine), Arturo Del Puerto (Octavio Rosales), Olivia Trujillo (Aleida Rosales), Ben Begley (Charlie Duke), Meghan Leathers (Pam Horton), Jeff Branson (Neil Armstrong), Chris Agos (Buzz Aldrin), Ryan Kennedy (Michael Collins), Noah Harpster (Bill Strausser), Nick Toren (Tim "Bird Dog" McKiernan), Daniel Scott Robbins (Hank Poppen), David Andrews (Admiral Scott Uken), Nick Wechsler (Fred), Steven Pritchard (Pete Conrad), Spencer Garrett (Roger Scott), Teya Patt (Emma), Teddy Blum (young Shane Baldwin), Jason Scott David (young Daniel Stevens), William Lee Holler (young Jimmy Stevens), Shaw Jones (Capcom), Jeffrey Muller (Del), Max Barsness (Tommy), Jason Denuszek (Magazine Photographer), Rita Khrabrovitsky (Anastasia Belikova), Rachel Rosenbloom (Doris), Jessica Amlee (Ginger), Krystal Torres (Cata), Janelle Froehlich (Pauline), Laura Long (Trish)

Notes: Though it provides a very dramatic visual, the non-remote-controlled television camera attached to Eagle's descent stage could not have panned, tilted, or otherwise followed the ascent stage of the lunar module without someone still being on the ground to control it, nor could it have been detached to offer a wide-angle view of Eagle itself. Remote-controlled cameras capable of following the ascent stage up weren't part of any Apollo mission's standard equipment until the later missions equipped with lunar rovers (Apollo 15, 16, 17).
LogBook entry by Earl Green