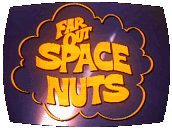 A meteor storm forces Barney, Junior and Honk down on a derelict space station. They find that Lantana has also docked there, as have many others, for the reading of a space will. The deceased promises his entire fortune, including the station itself, to all present, and implores them to ignore legends that the station is haunted. But when the visitors to the station begin disappearing, one by one, it looks like someone wants to be the sole surviving benefactor of that space will…
written by Jack Mendelsohn
directed by Wes Kenney
music by Michael Lloyd / arranged by Reg Powell

Cast: Bob Denver (Junior), Chuck McCann (Barney), Patty Maloney (Honk), Eve Bruce (Lantana), Mitchell Young-Evans (Spector), Michael Hawes (Zomar), Stan Jenson (Crakor)

Notes: Possibly the only instance of anything resembling continuity in Far-Out Space Nuts, this episode features a Gromek (It's All In Your Mind), a Pippet (Flight Of The Pippets, a Crystallite (The Crystallites), and Lantana herself (The Robots Of Pod).
LogBook entry by Earl Green