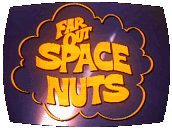 The lander is trapped on a planet where a full-scale robot uprising is taking place. Barney and Junior have to disguise themselves as robots to survive in the tyrannical rule of Mercurial, the robots' overlord, and they have to stay alive long enough to help the other robots overthrow him.
written by Earle Doud & Chuck McCann
directed by Claudio Guzman
music by Michael Lloyd / arranged by Reg Powell

Cast: Bob Denver (Junior), Chuck McCann (Barney), Patty Maloney (Honk), Eve Bruce (Princess Lantana), Earle Doud (Mercurial)

Notes: Both of the creators of Far Out Space Nuts appear in the flesh in this episode: Chuck McCann appears in every episode as Barney, while Earle Doud put in an appearance as the robots' ruler.
LogBook entry by Earl Green